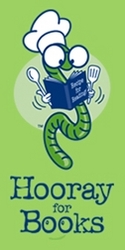 Today many moms going back to the workforce are looking for a career where they can make an impact and balance their family lives.
Hopkinton, MA (PRWEB) March 2, 2010
Hooray for Books®, one of Metrowest Boston's most unique programs where children learn to read and cook with a "side of humor", is now franchising nationally, offering moms, dads, former business professionals and teachers alike the opportunity to own their own business while contributing to the education of children. The Hooray for Books franchise offers a variety of classes for children of all ages, ranging from Book Lovin' Babies to First Grade Book/Cook Clubs, with each one "baking up" a unique, educational and fun experience for every child. This family-friendly franchise offers today's families the opportunity to invest in their future while balancing family life.
"Today many moms going back to the workforce are looking for a career where they can make an impact and balance their family lives," comments Mary Murphy founder of Hooray for Books and a mom of five herself. "This is a great time to expand our business model because we combine some of the most important criteria for working moms in this franchise: a flexible business opportunity that positively contributes to the education of young children."
The Hooray for Books franchise has a tried and true recipe for success, offering franchisees onsite training, lesson plans, direction, mentoring and all the steps they need to take to make their business a success. For close to a decade founder Mary Murphy has been perfecting lesson plans and recipes making the Hooray for Books experience both educational and fun.
"Hooray for Books isn't just another cooking class; its educational benefits set it apart from any other enrichment classes we have taken," comments Hooray for Books parent Amy Mick. Mick continues "It's been a win-win for us. My son loves the classes because the themes are fun and he loves the cooking piece. I love them because he is developing a great foundation and passion for reading - an educational advantage for sure".
More information on Hooray for Books franchise opportunities throughout the United States can be found at http://www.hoorayforbooks.com/franchise.html.
About Hooray for Books
Hooray for Books was founded and created in 2001 by Mary Murphy, a mom of five and former kindergarten teacher. Hooray for Books is an educational enrichment program offering mom-n-me and drop-off classes that bring a new twist on reading by marrying exciting themes with creativity, unusual cooking projects and learning. A cup of humor is always "mixed in" to bring books to life and make learning to read an enjoyable adventure. The primary goal of the program is to have each child enjoy, understand and appreciate quality literature in a challenging and stimulating environment! The classrooms are spacious, whimsical, inviting and developmentally designed for young children. Hooray for Books is headquartered in Hopkinton, MA and is now expanding its educational business model through select franchise opportunities within the United States.
###