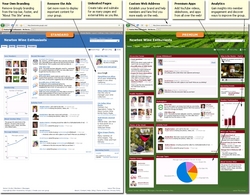 There are millions of businesses and organizations that are looking for a fast and easy way to deploy a professional, branded web presence that goes beyond a static website. They want to increase customer or member interaction. Grouply is the answer.
Redwood City, Calif. (PRWEB) March 18, 2010
Grouply -- the company that helps you create, manage, promote and monetize a social group -- has enhanced its service with a set of customization and branding features aimed at small-business owners, non-profits, associations, and clubs that wish to benefit from advanced interaction with their customers and members.
"There are millions of small businesses and organizations looking for a fast and easy way to deploy a professional, branded web presence that goes beyond a static website. Beyond, how can they increase customer or member interaction through social networking and social media on their website?" said Mark Robins, CEO and co-founder of Grouply. "Grouply lets them deploy a branded community website that can include user groups, help and support forums, chat rooms, and private discussion areas. And with Grouply's new promotional tools, businesses and organizations can attract new customers and members."
With Grouply, group leaders can create a new group on Grouply or give an existing Google or Yahoo! Group an "extreme makeover" -- transforming it into a modern, professional-looking website that can be completely customized to reflect the needs and interests of the Group. Grouply now offers three new service packages aimed at groups, associations, non-profits, and small businesses:
1) Starter Package: Ideal for owners of large groups who want to enhance their web presence with unlimited custom pages and Flickr slideshows, Google Docs, Twitter and YouTube videos. Analytics, also included, provide insights into group member interaction and engagement.
2) Pro Package: Designed for small businesses, non-profit organizations and group owners who need a comprehensive website with a custom identity. The Pro Package expands on the features included in the Starter Package, offering complete control over advertising and the ability to remove ads completely or even run your own ads. You can use your own custom web address, promote your site or business through search-engine optimization (SEO), add a featured placement in the public group directory, and promote your website to millions of Grouply users. You also have the option to reinforce your brand image by removing Grouply links and references.
3) Concierge Package: For small-business owners, non-profit managers and group owners who want to maximize the effectiveness of their website. Qualified technical and design experts at Grouply help design and set up your fully customized website. Grouply can also provide priority support and personal attention, and assistance with the design, set-up and management of a fully customized website. Includes fast and direct access to qualified technical experts, high priority status on all inquires, and a dedicated email contact.
Grouply is perfect for small businesses, non-profits, associations, and clubs
With no programming required, anyone can use Grouply to:

Provide their Group with a professional-looking website using pre-built themes that can be easily customized;
Reinvigorate a Group by adding rich media, powerful applications, social activity feeds, and dynamic lists and charts;
Save time managing the Group and gain useful insights into Group dynamics via analytics;
Monetize groups by running ads and collecting membership fees, donations and event fees.
Where to find Grouply around the Web:
Grouply home page: grouply.com
Grouply blog: blog.grouply.com
Grouply YouTube channel: youtube.com/user/grouply
Grouply on Facebook: facebook.com/pages/Grouply/169373559827
Grouply on LinkedIn: linkedin.com/companies/grouply
Follow Grouply on Twitter: twitter.com/grouply -- @grouply
About Grouply
Grouply is pioneering the "social group" — a new type of online community that combines the best features of social networks and online groups. Social groups offer the social interactivity, media sharing, and modern design of social networking sites like Facebook; and the rich discussions, popular email interface, and people-discovery opportunities found in traditional online group systems like Yahoo! Groups. With Grouply, you can create a new social group about anything you like or join a social group and connect with others who share your interests and passions. Existing Google and Yahoo! Groups get an "extreme makeover" on Grouply; each gets a modern, professional, fully customizable website that automatically interoperates with Google and Yahoo! Groups. Grouply was founded in 2006 and is funded by O'Reilly AlphaTech Ventures, SoftTech VC, and other prominent angel investors, including Reid Hoffman. http://www.grouply.com — @grouply
###