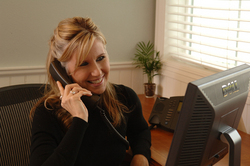 With true HD voice quality our clients can enjoy conference calls that sound like you're all in the same room...
Dana Point, CA (PRWEB) March 1, 2010
SimpleSignal Inc., a leader in hosted business telephone solutions for small and medium sized businesses, today announced the addition of an HD Voice Conference Bridge solution to its growing list of hosted PBX calling features and voice apps. The company's new conferencing service allows up to 100 callers to participate in unlimited HD audio conference calls for one flat rate of $29 per month, with volume discounts available.
"SimpleSignal's goal is to continually make business communications easier and more accessible to our clients, and this affordable, high quality conference bridge is a linchpin to providing a comprehensive unified communications service," said Dave Gilbert, CEO of SimpleSignal. "And with true HD voice quality our clients can enjoy conference calls that sound like you're all in the same room, even when talking across the country."
SimpleSignal keeps costs low by eliminating toll-free access to the conference bridge. With most business phone users nationwide on unlimited long distance calling plans, toll free service becomes a potentially redundant, unnecessary expense.
Although any user with a phone connection may call into SimpleSignal's conference bridge, HD Audio sound is what really takes conference calling to another level. SimpleSignal uses the HD Audio Codec, G.722, which doubles the sample rate and the high and low frequency rate, with no noticeable latency, delivering a more natural conversation, with better clarity to discriminate between letters "S" and "F" or "P" and "T". To take advantage of this technology users must be on the SimpleSignal network with a Polycom HD Voice IP phone or equivalent (legacy phone systems don't support the G.722 codec). While this might limit the broad enjoyment of HD Audio conference calling at this point, the biggest beneficiaries of the HD quality will be SimpleSignal clients with multiple office locations that use a conference bridge as a regular part of their business process.
SimpleSignal's HD Conference Bridge provides a full feature set including:

Reservationless conference start, meaning your bridge is active and ready 24/7 without scheduling
100 participant capacity
Entry/exit notification using chimes or recorded names
Self muting
Conference termination by the host (useful when you have back to back conference calls)
Participant count
Private roll call, meaning participants can hear a private playback of the recorded names still active on the call
Multiple hosts
Touchtone suppression
Security lock which prevents new callers from joining the active call
Keypad commands which easily and intuitively modify any of the settings during a call
SimpleSignal's unlimited flat rate of $29 per month for up to 100 participants is extremely competitive for any size business, competing strongly with per minute plans that can cost businesses thousands of dollars per year with or without toll-free access.
About SimpleSignal
SimpleSignal is a Cloud-based (also known as Hosted PBX) Unified Communications service provider that also offers SIP Trunking services, advanced Voice Apps and Polycom IP Phone equipment. The company is one of the top BroadSoft switches in the U.S., providing IP Phone applications and services to thousands of satisfied customers throughout the U.S. and Canada, with a growing list of multi-office clients in many international locations. SimpleSignal dependably provisions off-net, which means that customers can bring their own bandwidth and still use the SimpleSignal Hosted PBX system without overhauling their entire IP infrastructure.
SimpleSignal, Inc. is located at 34232 Pacific Coast Highway, Dana Point, CA 92629. Find us on the web at http://www.simplesignal.com. For sales, call 866-434-4404. Read our blog: http://www.simplesignal.com/blog/.
###