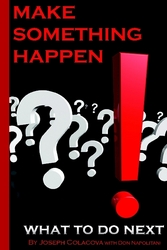 West Palm Beach, FL (PRWEB) March 2, 2010
Author Joseph Colacova announced today the release of MAKE SOMETHING HAPPEN - What to Do Next, a compelling new book created to help people discover the answers to those two life-altering questions.
"This book is not a 'rags to riches,' 'get rich quick,' or how-to manual by any means," says the author. "I wanted to focus strictly on the real-life struggles of ordinary people and the creative actions they took to rise above their dismal circumstances. "
The book begins with a preface detailing the devastating economic conditions that have displaced millions of Americans today, and then one by one introduces different individuals whose lives have been turned upside-down but who, through perseverance, creative thinking, and strategy, took an idea and successfully turned it into an opportunity for their own self-preservation.
"My goal was to provide the reader with some real insight into how they can discover something new and creative that can help them weather the storm and help preserve their future in a 'new' economy," said Mr. Colacova. "The individuals in this book each have a unique story to tell. I am truly grateful and thank them for taking the time to share and provide some inspiration for the rest of us."
http://www.makesomethinghappen.biz
MAKE SOMETHING HAPPEN - What To Do Next
By Joseph Colacova with Don Napolitani
Rising Tide Publications
Publication Date: March 7th, 2010
ISBN # 978-0-578-05031-7
# # #