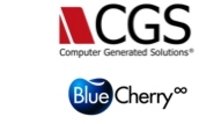 Our search for a fully integrated ERP with solid footwear and style/size/dimension core capabilities led us to BlueCherry
New York, NY (Vocus) March 2, 2010
Computer Generated Solutions Inc. (CGS) announces that Latitudes Inc., owner and manufacturer of popular comfort footwear brand Klogs® USA, has successfully implemented the BlueCherry enterprise resource planning (ERP) software solution at its Sullivan, Missouri (USA) headquarters. Latitudes achieved a fully-live system status complete with shipping and integration to existing Microsoft Dynamics® SL accounting software in just ten weeks. The company is already realizing significant benefits from the new software, including greater visibility into operations, improved tracking and management of raw materials and inventory, and better control of standard and actual costs throughout the manufacturing process. Keys to the extraordinarily quick implementation included Latitude's dedication to the project and CGS' Rapid Implementation Methodology and deep footwear industry expertise.
"Our search for a fully integrated ERP with solid footwear and style/size/dimension core capabilities led us to BlueCherry", noted Latitudes Director of Operations Jennifer Whitchurch. "The system gives us deep footwear functionality in a single, easy to use solution. With the easily accessible system reports and inquiry capabilities, we are now able to manage by exception. These and other factors enabled us to finish the project on time and under budget."
BlueCherry also improves Latitudes' management of raw materials and finished goods as items are automatically subtracted from inventory as they are consumed throughout the manufacturing process. This also yields more timely and precise actual cost calculations for the company. The new system also provides integrated electronic data interchange (EDI) collaboration with multiple Klogs® USA retail partners. Moving forward, the company plans to utilize BlueCherry to automate and streamline additional business processes. For more information please visit http://www.bluecherry.com.
About CGS
For twenty-five years, CGS has enabled global enterprises, regional companies and government agencies to drive breakthrough performance through technology. With global delivery capabilities, expertise across leading platforms and deep experience in multiple industries, CGS has become the IT partner of choice for thousands of organizations worldwide. CGS delivers a wide array of proprietary and third-party business applications, technology and business services, outsourcing solutions and learning & communications platforms. Headquartered in New York City, CGS maintains a worldwide presence with 20 offices in North America, Europe and Asia. For more information please visit http://www.cgsinc.com.
BlueCherry is a registered trademark of Computer Generated Solutions, Inc.
Microsoft and Microsoft Dynamics are registered trademarks of Microsoft Corporation in the United States and/or other countries.
###