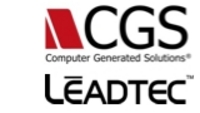 We are pleased to have BTapparel as a client partner
New York, NY (Vocus) March 4, 2010
Computer Generated Solutions Inc. (CGS) announces that Southern California contract garment producer BTapparel, Inc. (http://www.btapparel.com) has recently installed its Leadtec real-time shop floor control system. A short 15-day implementation coincided with the company's January 1 expansion and move into a new 12,000 square foot facility in Fountain Valley, California. The 50-workstation Leadtec system replaces a batch piecework payroll system and is expected to significantly reduce production bottlenecks while providing the up-to-the-minute status reporting and visibility needed to streamline operations and ensure customer delivery times.
"We produce everything from complex military uniforms to fast-changing fashion goods", noted BTapparel President Brad Thompson. "We quickly recognized the advantages that a real-time system could bring to us in terms of production visibility and ensuring customer delivery dates. After researching the market, we found Leadtec to be the most comprehensive and the system best suited for our business. Our employees quickly embraced Leadtec due, in part, to the real-time performance and earnings feedback they get right at their individual computer terminals. In addition to all of the expected improvements, I personally appreciate that product pricing and cost monitoring is much easier with Leadtec."
"While it was a challenge to make the move to a new facility and implement the new system all at once, we can already see how the system will pay for itself within one year," continued Thompson. "Leadtec's real-time reporting has already helped us win a new fashion customer. After months of discussions, they came and saw our new capabilities and had the confidence to immediately give us their business. While it is a significant investment for a small company like ours, we see this technology as part of the foundation we need to enable faster and more efficient growth in the near future."
BTapparel doubled its floor space in the recent move and plans to increase employment to approximately 70 people in 2010. The company currently produces a technically complex military uniform requiring over 140 operations. The company also manufactures a full range of commercial fashion under contract with major apparel retailers and brands.
"We are pleased to have BTapparel as a client partner," stated Jim Hoerig, vice president and general manager of Leadtec. "They have done a superb job of implementing and are already seeing benefits in the first month of operation. The powerful combination of management commitment and operator buy-in for the new system has set them on a path to accomplish tremendous results in the shortest possible time."
About BTapparel
Founded in 1999, BTapparel is a privately held service based contract manufacturer of fashion and other apparel products. In 2010, the company relocated to a new facility, doubling its floor space to 12,000 square feet. BTapparel offers retailers, brands, and government contractors a one-stop shop for complete concept through final production processes with pattern, sampling, cutting, sewing, finishing, and packaging services. The company employs approximately 50 people in Fountain Valley, California.
About CGS
For twenty-five years, CGS has enabled global enterprises, regional companies and government agencies to drive breakthrough performance through technology. With global delivery capabilities, expertise across leading platforms and deep experience in multiple industries, CGS has become the IT partner of choice for thousands of organizations worldwide. CGS delivers a wide array of proprietary and third-party business applications, technology and business services, outsourcing solutions and learning & communications platforms. Headquartered in New York City, CGS maintains a worldwide presence with 20 offices in North America, Europe and Asia. For more information please visit http://www.cgsinc.com.
For more information on the Leadtec real-time shop floor control system please visit http://www.leadtec.com.
Leadtec is a trademark of Computer Generated Solutions, Inc.
###