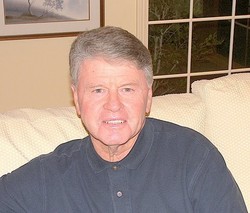 "Bringing up a baby is a wonderful learning experience".
(PRWEB) March 1, 2010
New parents or anyone looking for information on baby products designed for baby and child safety can now turn to the new eBook "A Guide to Baby Safety Products" from author Graham Dytor. The eBook will provide new parents with information they need to have for baby safety, including a listing of many popular baby safety products, tips on baby proofing and car seat safety. There is even an entire chapter dedicated to baby stair gates and other products that can help keep a baby where they should be, or out of where they should not be.
The book, which has five separate chapters as well as several bonus chapters, is the definitive guide to the baby products that parents need to have, giving advice and prompts for when they should be installed, how they work and the best sources in the baby products industry.
Chapters two, three and four cover a listing of the major companies in the industry. For instance, chapter three discusses those that specialize in online marketing. It might be time to consider buying products online, especially for those who would prefer to skip a trip to the store with a weeping baby in tow.
Other chapters in the book break the house into individual rooms and areas and let the reader know what baby safety and child safety products are best for use in each area. For example, Chapter Seven discusses baby safety products in the bathroom and includes a toilet lock to keep a baby from playing in the toilet, getting their fingers pinched in the lid, or worst of all, falling in and drowning in the toilet. Chapter eight discusses the bedroom and the best ways to ensure a baby is safe while he is sleeping, including the right ways to position him and to keep him in that position.
One of the best aspects of the book is the chapter that discusses free forums, which allow new parents to connect with other new parents and ask questions, make comments or simply reassure one another. "It may be hard, especially if you are the first person in a group to have a child and it can be very easy to feel overwhelmed and very isolated," Dytor says. "Being able to turn to the free forums while online can really be a big boost to the self esteem and confidence of the new parent."
Included in "A Guide to Baby Safety Products" are the bonus chapters at the end, which discuss choosing the right baby changing table and car seats, and a baby proofing checklist so readers can go through their own homes, room by room and see what measures need to be taken to make the home as safe as possible for the baby even before he or she is ready to start exploring.
For more information about the different baby products available for baby and child safety, or to purchase the eBook, visit http://www.babysafetyproductsguide.com/.
# # #