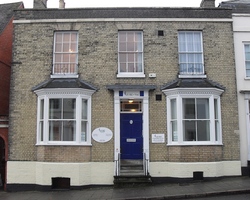 Ventrolla's solution of renovating the existing windows and then installing its Sash Removal System was really appealing.
(PRWEB) March 1, 2010
The sash windows renovation specialist carried out repairs to three upper floor windows at the LIFE-FORCE Centre, a counselling service and training provider owned and run by Nicole Joyce.
Each window had been painted shut, which besides the obvious inconvenience of no ventilation was also making ongoing maintenance of the 250 year old, Grade II listed building increasingly difficult.
Nicole said: "The only way we could paint the windows and carry out repairs was from the outside by climbing a ladder, which is dangerous, or putting up scaffolding, which is expensive."
"Ventrolla's solution of renovating the existing windows and then installing its Sash Removal System to allow for future painting or maintenance work from inside the building was therefore really appealing."
"They replaced parts of the window sills and frames which had rotted as well as a few panes of broken glass, in each case managing a very close match to the original materials. The end result was most impressive."
Nicole was eager to get the work completed quickly to avoid closing the premises and losing business.
She said: "The LIFE-FORCE Centre operates seven days a week so naturally we wanted to minimise any disruption to our trading hours. We had set aside three days to get a number of maintenance issues sorted, including the windows, and were delighted when Ventrolla were able to complete their work during this time."
"We were also pleased they could repair the existing windows rather than replace them because it is more cost effective, preserves the period looks of the building and saved us having to seek listed planning consent for altering its features."
LIFE-FORCE was established in 1990 and relocated to East Hill in Colchester in 2005.
The business comprises of three parts: a Centre for Natural Wellbeing, which offers a therapeutic counselling service and holistic therapies, an accredited School of Counselling and the Institute of Holistic Studies providing training in Reiki Healing, Indian Head Massage and First Aid.
Ventrolla's central office is based in Harrogate, North Yorkshire, with offices throughout the UK and Ireland, and offers a bespoke renovation service for timber sliding sash and casement windows.
###