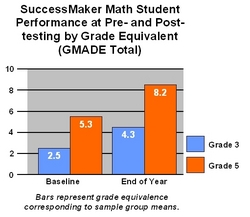 SuccessMaker's fully interactive, digital environment offers a robust individualized and adaptive learning experience for all students that can result in significant educational growth.
Chandler, AZ (PRWEB) March 2, 2010
Elementary math students are improving as much as three grade-level equivalents over the course of one school year thanks to Pearson's SuccessMaker, an adaptive digital learning environment for K-8 students, according to the latest independent efficacy research from Gatti Evaluation, Inc.
The Gatti Evaluation study shows fifth-grade students learning with SuccessMaker gained 2.9 grade-equivalent levels and third-grade students improved by 1.8 grade equivalents on the Group Mathematics Assessment and Diagnostic Evaluation (GMADE) from pre- to post-test. The average growth rate expected per year is one grade equivalent.
All subgroups of students, including those of varying ethnicities, English proficiencies, and math ability levels, demonstrated significant gains in achievement with the educational software. Most notably, students with lower math ability made the most substantial gains, indicating that SuccessMaker actually helps to close the achievement gap.
"Our research confirmed that students who supplemented their core math studies with SuccessMaker saw statistically significant gains over the course of the one-year study, specifically in the areas of math concepts and communication, operations and computation, and process and applications. Additionally, we found that SuccessMaker students not only performed well across the board, but also outperformed their peers learning with print-based math supplements," said Guido Gatti, principal investigator of Gatti Evaluation study.
Gatti also noted that fifth-grade students' gains were particularly meaningful because of the magnitude of the effect, as evidenced by SuccessMaker students increasing an average of 6.6 points more on the GMADE than their peers using print-based supplemental math programs.
SuccessMaker's personalized instructional sequence and embedded audio and visual cues individualize learning and engage students of all levels to create a customized and unique educational experience. Study results confirm that students are responding positively to the program, with 86 percent of third-graders and 90 percent of fifth-graders reporting they enjoyed learning with the program.
Educators teaching with SuccessMaker reported overwhelmingly positive support for the program, indicating they felt the time spent with SuccessMaker was a good educational investment and ultimately provided a learning benefit for students.
"Scientific research and efficacy studies are the foundation of every program we develop at Pearson. This latest research on SuccessMaker comes at a critical juncture, providing evidence of effectiveness at a time when school districts nationwide are seeking learning solutions that utilize technology in the classroom and provide useful data," said Pearson's Director of Academic Research Marcy Baughman. She added, "SuccessMaker's fully interactive, digital environment offers a robust individualized and adaptive learning experience for all students that can result in significant educational growth."
Gatti Evaluation conducted the scientific research study to evaluate the effectiveness of SuccessMaker over the 2008-2009 school year, monitoring third- and fifth-grade students in public schools in four states.
SuccessMaker offers full K-8 mathematics and reading curriculum through a standards-aligned, research-based digital courseware, helping educators meet today's digital natives on their turf and individualize learning with differentiated instruction. The program also offers reporting capabilities that can provide data on an entire classroom or an individual learner to determine student progress.
SuccessMaker qualifies for federal funding in the categories of Title I, 21st Century, Title III, Title V, the Individuals with Disabilities Education Act (IDEA), Enhancing Education Through Technology (EETT), School Improvement Grants and Investing in Innovation (i3) funds. For more information visit http://www.successmaker.com.
About Pearson:
Pearson (NYSE:PSO), the global leader in education services, education technology and school solutions, provides innovative print and digital education materials for preK through college, student information systems and learning management systems, teacher professional development, career certification programs, and testing and assessment products that set the standard for the industry. Pearson's other primary businesses include the Financial Times Group and the Penguin Group. For more information, go to http://www.pearsonschool.com.
Press contact: Stacy Skelly, 800-745-8489, stacy.skelly (at) pearson (dot) com
###