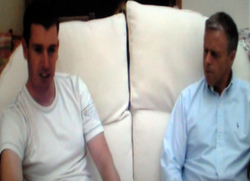 Autonomous Millionaire Mark Shipman was recently added to Global Investors "Top 100 Investors of All-Time"
(PRWEB) March 1, 2010
Investor Mark Shipman was recently added to Global Investors "Top 100 Investors of All-Time" alongside such market wizards as Warren Buffet, Sir John Templeton and George Soros. Lives changed forever when he got chatting to the man working on his house extension... now Mark Shipman is out to beat the banks and change more lives with The Autonomous Millionaire multimedia investment package.
When construction worker Curtis Arnold and his father were booked to work on building Mark Shipman's conservatory, he had no idea his life was about to change.
Seeing Mark living a life of leisure whilst living in a massive house in an exclusive private road, Curtis naturally wondered how Mark could do it. Understandably, criminal activity crossed their mind! All Mark Shipman seemed to do was the occasional bit of typing at his laptop.
Finally Curtis got talking to Shipman, who explained that he was a professional investor writing his first book – The Next Big Investment Boom. Mark lent Curtis a draft copy which he eagerly took home. "I read it cover to cover in 3 days, then read it again" says Curtis, "it was fascinating".
Curtis then went away and – without Mark knowing – both he and his father used the Mark Shipman methods to begin their investing careers. Neither had any previous experience. "I think that was actually a bit of an advantage" notes Curtis, "Mark's material gave me a clear picture".
Following Mark Shipman's simple methods, Curtis initially began with his savings, totalling $3,000 - "I made a lot very early on" he smiles, understandably.
After exposure to Mark's full knowledge, Curtis' father has been retired from the building trade for 3 years, "basically off the back of this" as Curtis points out, "we'd only been doing this for 6 or 7 months".
Curtis' father now enjoys cruises instead of the bruises of the building trade. Curtis himself is sitting on a great nest egg and is enjoying a financial security he didn't know before, having turned savings of $4500 into $92,000. Not bad for 30 minutes work a week!
Mark Shipman believes that everyone should know about the markets as a life skill, almost like swimming: "As soon as you've got a pension, or if are relying on the Government to give you a pension, your money is in the markets. So it pays you to get a life skill and understand how it works."
"I feel my money is safest with me, using these systems" adds Curtis, "I've 100% confidence in that and I wouldn't put it anywhere else. I don't have a pension scheme and I don't want a pension scheme. We've been through a major crash and it hasn't hurt me. I feel more confident with trading my money than I would keeping it in a bank account - I know markets don't go up all the time, but I know I'll make money over the long term."
The Curtis Arnold & Mark Shipman quotes are taken from his DVD interview in The Autonomous Millionaire multimedia investing package http://www.theautonomousmillionaire.com which is the complete package of all Mark Shipman's methods & systems, including exclusive footage of Mark's highly-acclaimed day long investing seminar.
Curtis Arnold is available for interview via Branson Bond Ltd:
Tel: 0044 845 10 80 186
Email: info(at)bransonbond(dot)com
Gerard Evans (CEO of Branson Bond Ltd, who released The Autonomous Millionaire package) is also available for interview.
*The amounts here have been converted from GBP Sterling using the conversion rate on 24th February 2010
###