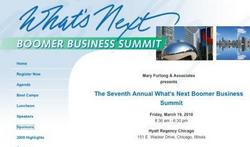 Entrepreneurship & New Career Opportunities within the Boomer Market
Capitola, CA (PRWEB) March 1, 2010
SeniorCareMarketer.com will travel to the Windy City in mid-March, attending the annual NCOA-ASA Aging in America Conference and the What's Next Boomer Business Summit in Chicago.
Presented by the National Council on Aging and the American Society on Aging, the Aging in America takes place March 15-19. It's the largest gathering of a diverse, multidisciplinary community of professionals from the fields of aging, healthcare and education, along with business leaders from across the United States.
SeniorCareMarketer.com is a silver sponsor and will be located at booth #444. The company's president and founder, Mark Willaman, is a featured speaker at the events. Willaman will join panels on the following topics: "Entrepreneurship & New Career Opportunities within the Boomer Market" and "Finding Channels and Alternate Distribution."
With 4,000 attendees, the NCOA-ASA conference is considered a showcase for programs and projects that can be replicated, a forum for policy discussion and advocacy, and a prime source of information on new research findings in aging. For more information about the conference, visit http://www.agingconference.org.
The firm will also attend the What's Next Boomer Business Summit, to be held March 19 at the Hyatt Regency Chicago. The seventh annual summit is an official post-conference event; it's designed to teach attendees how to build value and trust with baby boomer customers using practical advice, case studies, new media strategies, social networking and reaching out to caregivers. Registration, agenda details and other information is available at http://www.boomersummit.com.
A response to the aging population, SeniorCareMarketer.com combines databases of marketing and public relations opportunities with press release distribution, campaign management and social networking tools. A full range of marketing, PR and SEO services are also available. The service offers the same marketing benefits and features offered by its sister product, HRmarketer.com — the ability to generate publicity, website traffic, sales leads and improved search engine rankings.
SeniorCareMarketer.com's databases feature profiles of journalists and bloggers who cover the elder care industry, media outlets, conferences and trade shows, speaking opportunities, award competitions and more. All are designed to help companies reach senior care-related buyers and purchasing influencers, including family caregivers, doctors, nurses, homecare agencies, hospitals, care managers, pharmacists and more.
For more information, visit http://www.SeniorCareMarketer.com.
About Fisher Vista, LLC
Fisher Vista, LLC (http://www.fishervista.com) is a marketing software and services firm focusing on the senior care and human resources industries. The company's flagship product is HRmarketer.com, the No. 1 online marketing and PR service in the human capital industry, and SeniorCareMarketer.com. Both help service providers get noticed and get sales leads through increased publicity, website traffic and improved search engine rankings.
Media Contact:
Elrond Lawrence
831-632-2183
elawrence (at) fishervista (dot) com
This press release was distributed through PR Web by Human Resources Marketer (SeniorCare Marketer: http://www.seniorcaremarketer.com) on behalf of the company listed above.
###