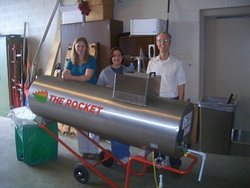 The Rocket® composter is the perfect eco and educational tool for our times, allowing students a hands-on experience with the biological and chemical processes involved in composting
Archbold, OH (PRWEB) March 2, 2010
With its acquisition of a cutting edge food waste composter, Northwest State Community College (NSCC) has opened a new frontier in green technology in the United States. Sporting a distinct, in-vessel Rocket design, the A500 Rocket® composter breaks new ground in sustainable practices for food waste management – delivering exceptional recycling efficiency and cost-saving benefits to eco-conscious Higher Education Institutions.
In 2006 and 2007, campus waste audits at NSCC revealed that waste from campus food and food related sources comprised 40 percent of its entire landfill-destined waste. In October 2008, the college established its first "Green Grant" to encourage innovative ways to improve energy efficiency and promote widespread education – awarding its first grant to the purchase and installation of the Rocket® composter. By summer 2010, NSCC expects to begin capturing post-consumer food waste at the main food court on campus adding to the pre-consumer food waste already captured from both kitchens.
According to Gerardo Soto, Managing Director of NATH Sustainable Solutions the product's distributor, "The A500 Rocket® composter is an exemplary model for the green movement. Recycling organic waste brings us much closer to attaining the goal of zero waste. We believe the Rocket® ultimately will revolutionize U.S. organic waste treatment initiatives – and in turn benefit the environment on multiple levels."
Soto cited key reasons that food composting makes earth a better place to live. "The Rocket® helps diminish garbage truck carbon emissions by reducing the volume of food material that must be hauled to landfills. Food waste in landfills produces methane – which is 20 times more damaging to the environment than CO2. Plus, food waste in landfill often leachates contaminating nearby water streams."
NSCC Professor Edward Singer believes The Rocket® composter is the perfect eco and educational tool for our times, allowing students a hands-on experience with the biological and chemical processes involved in composting. Singer says, "Having an on-site Rocket®composter helps optimize the way we manage our food resources, while reducing waste-hauling costs and energy use. Perhaps most importantly to our campus and surrounding community, we expect our impact on the local landfill to decrease by up to 40 percent."
Soto added, "This is a completely safe, hygienic method of treating up to 80 gallons of food waste per week in a reasonably small area with minimal operator interaction. Recycling with the Rocket® composter takes only 14 days to transform food waste into compost for lawns and other green areas. It is an ideal solution to put organic waste to better use at universities, schools, corporate cafeterias, hotels, prisons, nursing homes, and numerous other commercial establishments.
Distributed by NATH Sustainable Solutions, the A500 Rocket® composter uses proprietary technology to deliver high-performance, sustainable waste solutions to school campuses and other organizations that handle significant amounts of organic material (including food waste, meat and fish, garden and horticultural discards).
Northwest State Community College's students are playing a key role in the green solution by operating the Rocket® composter. Heather Smith, the student recycling coordinator, has volunteered to operate the Rocket composter and is expanding her sustainability educational experience, while also helping to "green" her campus.
Manufactured by Tidy Planet, Ltd., the A500 Rocket® composter has achieved great success in the United Kingdom. Currently, more than 260 Rocket® units are in use worldwide, the majority in the UK. Approximately 16% of all universities across the UK use the Rocket® composter. In 2008, Rocket® composter units diverted nearly 4,000 tons of food waste from landfills.
###