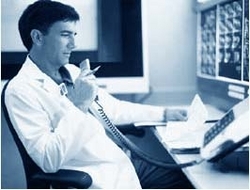 We created Radiology Services Online as an easy and secure way to store and manage Dicom files and patient data records. We offer user-friendly applications, competitive pricing and technical know-how.
Atlanta, GA (PRWEB) March 1, 2010
Cad / Cam Medical (CCM), a division of Cad / Cam Services, inc. and an expert in providing interface services for medical interpretational reporting on radiology examination, today introduced important new features and updates to Radiology Services Online. Radiology Services Online is a comprehensive web-based service for radiology providers. This all-in-one, easy-to-access web-hosted image and records management service enables radiology providers to: (1) maintain and track patient information; (2) maintain digital and digitized images; (3) create and issue radiology reports; and, (4) manage and maintain service billing.
The new Radiology Services Online features introduced today at the HIMSS Show include:
>State of the art web-based Dicom image viewer –- available to any user in the system that has been granted access to view images. This high quality viewer is exceptional in the industry.
>Online schedule and dispatch management — offers online ordering of services that utilizes both online work study for overview of workloads and electronic messaging to staff for notification of pending exams.
>Automatic faxing — automatically sends final reports via online electronic faxing.
>24-hour online image and report availability —allows facilities to review, print, electronically export and store images and reports as needed.
>Transcription — radiologists can utilize several easy options for report creation: they can use their existing voice dictation product to provide the text for the reports; they can fill in the text boxes using the system's common normal/abnormal findings and add any extra verbiage needed; they can voice dictate and have their transcriber log in to type the findings; or, they can use their own dictation product and transcriber and simply send the final report to Radiology Services Online as a pdf file.
>Billing services — easy-to-use invoicing system allows pay-per-service invoicing within the Radiology Services Online system.
>Medicare/Medicaid billing assistance — the system provides the needed information for billing agents to process exams for payment.
These new features are part of Cad / Cam Medical's commitment to provide their users with upgrades, development, and maintenance of the Radiology Services Online system at no additional cost.
"We created Radiology Services Online as an easy and secure way to store and manage Dicom files and patient data records," says Scott Shuppert, President and Founder of Cad / Cam Medical, a division of Cad / Cam Services, Inc. "With our user-friendly applications, our broad access solutions, and our professional personal customer service we offer quality, competitive pricing and the technical know-how to be a one source solution provider for all electronic image storage needs."
Interested parties can learn more about Radiology Services Online by calling (800) 938-SCAN or by emailing medical (at) cadcam (dot) org.
About CAD / CAM Services:
CAD / CAM Services is a small, woman-owned business specializing in cad conversion services, x-ray film scanning services, electronic medical records and sales of x-ray scanners as well as large format scanning and printing equipment. CAD/CAM's Medical Division is the industry leader in medical scanning technology and document management. XRayScan.com and Radiologyservicesonlilne.com are subsidiaries of CAD/CAM Services. With over 14 years of experience in cad conversions and raster to vector conversions, and medical scanning, CAD / CAM is one of only six companies in the United States that is certified for Department of Defense scanning and cad conversion work. For more information, see our websites at http://www.cadcam.org and http://www.xrayscan.com and http://www.radiologyservicesonline.com.
###