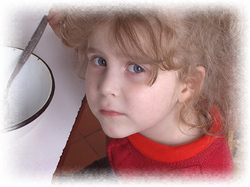 "We realize that the world's attention concerning orphans is directed elsewhere right now, but not many people are looking at Ukraine and they don't see the critical need to help there. In reality, there remains a great need" says Steve.
Plymouth Meeting, PA (PRWEB) March 3, 2010
This year marks the 10th anniversary of the "Ride Across Europe 2000" endeavor. "Our goal was to ride through France, Germany, Poland and into Western Ukraine, all the way to the remote mountain village of Vorokhta, high up in the Ukrainian Carpathians, where a camp for 300 orphans was taking place. Unfortunately, we could only make it as far as Warsaw, were we were delayed, as I had to secure a visa to go into Ukraine. Time kind of ran out on us, so we had to ditch the bikes and take a 12 hour bus ride to the city of L'viv, and then a 3 hour car trip up into the mountains," says Steve Vetterlein, one of the riders and now Executive Director of the UOCFP. You can read more about this incredible journey from the book called "Mountains of Grace" at Xlibris Publishing.
"Naturally, it was an experience no one would ever forget, and I still can remember so much about that trek, and many of the remarkable children that we met at the summer camp afterwards. One brilliant sunny day, we took 35 kids up to the top of Hoverla, the tallest peak in the Ukrainian Carpathians, even some handicap children came with us who could barely walk, but they all made it up to the top, partially because of how many of the other kids helped them out. The summer of 2000 was incredible, and never could be duplicated."
"It's so hard to believe, but almost 10 years have passed, but I can even remember that cold early morning start, when we took off from Paris, I can remember the anxiety I felt about doing such a trip like this," says Steve. "We even rode that morning for 2 hours, got lost, and somehow rode in a big circle only to arrive back were we started. Four weeks and a million stories later, we finally made it to Warsaw."
The UOCFP Today:
"We are still surviving, but it's been extremely tough to raise funds to help our cause; however we will not give up and will continue to be a loud and persistent voice for these children. Often, I think that our cause doesn't get the recognition it deserves, but we keep on trying," says Steve.
Some of the past projects have been collecting used bicycles, medical and food supplies; stuffed animals and toys for an HIV/AIDS orphanage; sports, art supplies and games for summer camp children; financial aid to an underfunded orphanage in Ukraine; a scholarship fund to provide some assistance help when they must leave the institution; a building fund to help rebuild a run-down orphanage; plus 3 documentary films (one actually made it to Public TV); an HIV/AIDS awareness seminar; and numerous humanitarian trips to Ukraine since the year 2000.
Although things are better than they were in the early 90's when the brake-up of the Soviet Union brought this nation to a standstill, a good deal of children are still suffering, are still being abused, raped, beaten, still go hungry, and many still don't have a place to live. Too many still live in Institutions that in the past have been described as "Warehouses for Children", or even worse, "Children Concentration Camps". How bad are they? Most are very bad. Government funding is always lacking to run and maintain them adequately. Funds are late, and often budgets are cut, so repairs and improvements don't take place."
To many of these abandoned children that must call these places home, it's a nightmare, a real living hell. For more information, please see the report The Vulnerable Children of Ukraine.
On a bright note, many of the staff members at these dilapidated institutions are remarkable people and doing the best that they can. For the most part they are poorly paid, overworked and don't get the credit that some of them deserve. "I've known a few, who would even give up some of their own money to help a child that needs it," says Steve.
Under the former President, Victor Yushchenko, who was openly sympathetic to this issue, new Government initiatives had been implemented to move the kids out of these places, but it is a very slow process just like most other projects, and will take years to complete. Plus with the brand new regimen coming into power this year, who knows if these children will even matter to them, thus undoubtedly another setback to these kids in need.
"We realize that the world's attention concerning orphans is directed elsewhere right now, but not many people are looking at Ukraine and they don't see the critical need to help there. In reality, there remains a great need," says Steve.
Our new project for 2010 is the start of the NADIA Fund (means "HOPE" in Ukrainian). This is a project to build a small home for these children who desperately need one. The home will have basic but clean and warm bedrooms, a recreation area, a small study area, a chapel, a kitchen and dining area, a modern bath facility, storage, a laundry and caretakers guestrooms. It will be built as "green" as possible in Ukraine, with these children's safety and well-being in mind. The home will be built to house approximately 50 children.
"Ever since spending time with these children at the orphan summer camps in the Carpathian Mountains, I have always had the desire to establish a real home (opposed to an institution) for these disadvantaged children, so I really believe that God has truly brought Ella to us so that we can all realize this dream", says Steve.
Ella being Ella Frye, a young missionary whom we have partnered with. Ella runs My-Missionary, Inc. of Boca Raton, Florida and will run this home in Ukraine. She once wrote: "I come before you in humility that you will do what you can to help me be an instrument of healing, love and peace to Ukrainian orphans who desperately need a place to call home."
She has a remarkable drive who sincerely wants to help these children. Ella has spent time as a missionary in South Africa, Haiti and in Ukraine. With Ella's tenacious and sincere character, her love and desire to help these distressed children, we can only believe that this home will truly materialize & grow and will become a real refuge for these children.
How to help? Please take a look at our web site: http://www.uocfp.org to learn more about this cause. "We would appreciate anything that you can do for us. Chances are, we won't receive a check from you, but with so many other causes, we can understand. But we hope we can reach out to more people and that in time we will find a way to build this home," says Steve.
UOCFP, 614 Treaty Road, Plymouth Meeting, PA 19462 (A registered 501(c)(3) non-profit)
# # #