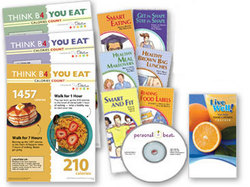 As people attempt to hold true to their New Year's resolutions, Personal Best has developed a weight loss program that encourages healthy habits. A change to a healthier lifestyle can ultimately lead to fewer health insurance claims, thus impacting an organization's bottom line
Birmingham, AL (PRWEB) March 1, 2010
Personal Best®, a leader in employee wellness solutions, announces the release of the Live Well! Lose Weight! wellness program. The program is a comprehensive 6-week wellness initiative to improve fitness and nutrition in the workplace, allowing employers an opportunity to control some of the escalating insurance costs they face.
"As people attempt to hold true to their New Year's resolutions, Personal Best has developed a weight loss program that encourages healthy habits. A change to a healthier lifestyle can ultimately lead to fewer health insurance claims, thus impacting an organization's bottom line," said President and Publisher for Personal Best, Bob Amato.
The Live Well! Lose Weight! wellness program includes a step-by-step planning guide and promotional resources such as flyers and copy that can be distributed via emails to help encourage employees during the six week program. An audio conference is also included that outlines the high costs of obesity in the workplace. In addition, the program includes a set of 12 promotional posters that were designed in cooperation with TV's Diet Detective, Charles Stuart Platkin. The program includes 100 food and fitness trackers to allow participants the ability to track their food intake, exercise, moods--research shows that tracking food and fitness can double weight loss. And, 100 copies of six different motivational brochures are also included. More detailed information on these various tools can be found at our Personal Best website.
Personal Best is a major publisher of employee wellness informational materials covering such areas as health and wellness, safety, productivity, shiftwork and personal money management. Resource materials are available in various electronic and hard copy formats. The company's TopHealth®, Personal Best Healthlines®, and Body Bulletin newsletters reach more than 1 million readers each month at nearly 10,000 organizations. Personal Best is a division of Oakstone Publishing, a medical and wellness communications company that specializes in providing educational materials and resources for healthcare professionals and those organizations interested in encouraging healthy lifestyle choices among their employees. For additional information, visit: Personal Best on the web.
# # #