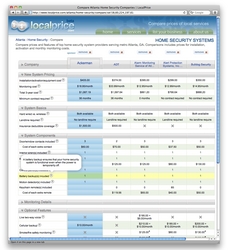 Currently, customers looking for home security systems can spend hours getting quotes before they can thoroughly compare providers. With LocalPrice, they can now do this in seconds.
Atlanta, GA (PRWEB) March 2, 2010
LocalPrice, the only website that allows users to compare prices for everyday local services, is introducing online comparison shopping for home security monitoring in every major U.S. city.
Right Service, Right Price, Right Now:
LocalPrice is changing the way consumers find and shop for local services. For years, consumers have taken advantage of the web to find the best prices and information on products like clothing, cars, and electronics. But when it comes to locally provided services like home security monitoring, they're still stuck shopping the old-fashioned way—by picking up the phone and calling around.
"Currently, customers looking for home security systems can spend hours getting quotes before they can thoroughly compare providers," explains Rob Shields, founder of LocalPrice. "With LocalPrice, they can now do this in seconds.'
The website, which is free to consumers and businesses who list, requires home security companies that list to provide complete pricing information and a detailed description of their home security offerings. "LocalPrice asks all the tough questions a very savvy consumer might ask," says Shields. 'We then publish the results online.'
Finding The Right Service:
LocalPrice gives consumers the ability to find home security companies that best meets their needs - not simply the lowest cost provider.
After starting with a list of companies, consumers can quickly narrow it down by the criteria they select including: contract length, type of system, warranty coverage, whether a landline is required, optional features, and more.
Home Security Companies List For Free:
LocalPrice offers free listings to businesses, which directly provide the information to the site. Businesses can then create, edit, and update their listings whenever they want by working through the site's business center. Businesses that desire more visibility—and the accompanying increase in traffic –can become a sponsor to gain preferred placement on the site.
The response from home security companies has been positive—and striking. Since introducing online enrollment earlier this month, the number of business listings in the Atlanta home security section has tripled.
"LocalPrice allows the customer to plainly view a wide range of prices and home security services in one place, offering multiple ways to find the right company. Clearly this is going to be big for businesses and customers alike," notes James Birkbeck, Marketing Director for Smith Monitoring, a rapidly growing regional home security provider.
City-By-City Coverage:
LocalPrice provides city-specific comparisons in more than 2 dozen cities including: Atlanta, Austin, Baltimore, Boston, Chicago, Cincinnati, Cleveland, Dallas, Denver, Houston, Kansas City, Las Vegas, Los Angeles, Miami, Minneapolis, New York City, Orlando, Philadelphia, Phoenix, Pittsburgh, Portland, Riverside, Sacramento, San Antonio, San Diego, San Francisco, San Jose, Seattle, St. Louis, Tampa, and Washington DC.
About LocalPrice:
LocalPrice allows people to shop for local services like dentists, locksmiths, movers, and pest control. It is the first site that enables customers to compare a range of service providers based not only on price, but also on the other objective aspects of their offerings. Founded in Atlanta in 2008, LocalPrice currently covers more than 20 types of services and has recently begun a national expansion in order to cover the top US cities. For more information, visit our website or email press(at)localprice(dot)com.
###