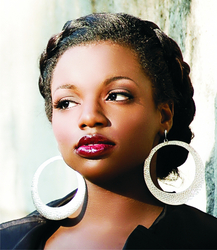 "The epitome of modern, thoughtful, and penetrating soul music."
Atlanta, GA (PRWEB) March 1, 2010
Singer, songwriter and soul recording artist Natassja has once again joined forces with producer and co-writer Sinclair Davis, to deliver a collection of new tracks for her long awaited sophomore release, Minimum. A labor of love, this special 4-song EP details Natassja's growth since her debut, Flow: The Birth of Kozmik Soul.
Flow was well received in 2008 by music aficionados in search of something fresh, positive and real. Gravity and Flow, two popular tracks from the EP, enjoyed the support of internet radio and podcasts in the United States and Europe. Minimum holds the similar promise of touching the hearts and minds of fans and others looking for soul stirring new music in 2010.
Minimum, a notable follow-up to Flow, finds Natassja tackling more serious subjects and character attributes in her lyrical work. Tracks like the standout Warrior look beyond a troubled fighter's personal struggles to see into the true and beautiful heart of the man, while Road 2 Redemption delivers the artist's reflection on growth, personal accountability and movement in positive directions. The remaining two tracks on the EP are love songs - with a twist. Rebirth of Love is an upbeat feel-good testament to the enduring nature of unrequited young love, and So You finds a woman celebrating her man's endearing qualities and his capacity for knowing how to make her feel special.
Natassja's moody and sensual brand of soul builds its foundation on uniquely stylized leads, richly textured backing vocals and tracks, and a lyrical breadth and depth that are to die for. Her co-writer and producer Sinclair Davis says of his experience working with this artist: "Natassja is spontaneous and fresh in so many ways. In the studio she had no pre-conceived notion of what the end result should sound like. Instead, we just came up with ideas on the spot and took a non-formulaic approach to expressing each moment. Natassja is one of the most lyrically adept and melodically fluent writers/singers I've had the pleasure of working with."
Steadily building on the momentum that began with Flow, Natassja is staying the course by giving fans music that continues to touch them deeply and inspire them with positive messages. Her work was recently regarded by New Band Daily as "The epitome of modern, thoughtful, and penetrating soul music." And Eric Johnson of Soulified, summed it up succinctly when he wrote "…If you haven't heard of her, you're in for a treat." Minimum will be released to digital stores, iTunes, Amazon MP3, Rhapsody, and others on March 30, 2010, on Hi Lyfe Recordings, Atlanta, Georgia, USA.
###