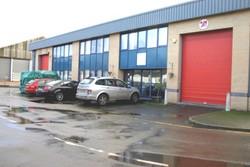 Production Units like this are rarely available in such convenient locations and therefore we expect this unit to sell quickly. Early viewing is recommended. Michael Charles, Amco's principal
(PRWEB) March 1, 2010
Amco Agency (London, England) has been instructed to dispose of a fully fitted Poultry and General Meat Cutting Plant located to the North of London.
The plant comes ready to operate having been re-approved by the food standards agency in April 2009. The plant can also be used for Processing Ready Meal and Cooked Meat Production.
Our client occupied the premises as a short term solution whilst consolidating its existing production facilities. Prior to their occupation the plant's previous occupiers specialised in coated chicken products along with their developing airline ready meals business.
This 10,000 Sq Ft facility is located close by the M25 and M1 Motorway Network in Watford, Hertfordshire. This plant would be particularly suitable for a overseas company wishing to gain a foothold in the UK. Its compact size is particularly suited to being operated on an entrepreneurial basis whilst additionally being able to generate profits.
Michael Charles, Amco's principal said "This unit is close to both the M25 and M1 Motorways giving it direct links to all four London airports. There is also easy access to the West Midlands and Central London. The plant is fully equipped and ready to produce SFC and other coated chicken products immediately. Production Units like this are rarely available in such convenient locations and therefore we expect this unit to sell quickly. Early viewing is recommended."
There are currently circa 3.5 years remaining of a new 5 year lease taken by our client in Mid July 2008. Since occupation in 2008 our client has improved the facility by adding a large mezzanine floor adjacent to the goods in shutter along with a large freezer area below.
Offers are invited for the facility and the benefit of the lease circa £250,000.
More complete details are available at http://www.a406.com/tolpits.
Contact
Michael Charles
###