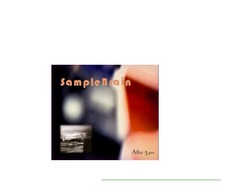 New Age artist SAMPLEBRAIN releases first album "After 5 pm".
(PRWEB) March 1, 2010
New age artist John Coenen (aka SampleBrain) from the Netherlands releases an album worldwide in the traditional way as well as through the internet, that upholds a mirror to and gently helps the listener reflect on life from a composer's angle.
After a career that spanned thirty or so years as a bandmember, guitarist, bass player, singer/songwriter John Coenen thought the time had finally come to allow people a more intimate look inside himself. That being the main reason for this release shows a very honest and open, interactive way of communicating towards the listener.
Review SampleBrain
'After 5 pm'
This is an example of an album that, once found, will repeatedly be found in the CD player. On the way home in the car, after a day full of stress at the job a definite return into one's own atmosphere. SampleBrain thought about this project for a long time and was always in doubt to finish it and that would have been a real pity. Many enthusiastic listeners already enjoyed the meditative powers behind many of the compositions which mostly come from John Coenen's erudite lifestyle.
The way John describes his voyage on the beautiful planet is a typical way of life on its own. It would not be right to lift only one of the specific pieces on the album, every composition has its own character in diversity. Asian, Australian, but also a very introverted look inside, soulsearching what the listener would like without leaving the SampleBrain territory. The look inside shows an instrumental diversion of movement the composer uses with, without and against the project and certainly will generate an experience alike. Silence is an important, major ingredient in SampleBrain's music. In every way imagine an instrumental escape to the unique human condition where the composer hits the soul of the beholder, sometimes in all simplicity. The complex structure of the music grows in time however and keeps the listener in touch with the beautiful Earth, it's music and above all, very relaxed.
'After 5 pm' by Samplebrain can be found on hundreds of legal download sites worldwide.
http://www.samplebrain.com
###