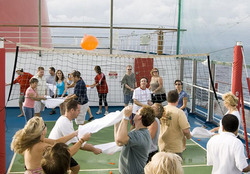 The best part about joining a SinglesCruise.com vacation is that you can pick and choose what singles events you would like to join – it's your vacation!
Fort Lauderdale, FL (PRWEB) March 1, 2010
Whether a single vacationer prefers meeting new people over wine and cheese or playing beach volleyball together, SinglesCruise.com has announced a new way for single travelers to define their "cruising personality" and therefore ensure they will find the right singles cruise for themselves.
The company breaks down what onboard events may appeal to five types of personalities:
Social Butterfly
Social butterflies will delight at the array of cocktail parties and special mixers offered onboard a singles cruise. It's their time to shine at the popular icebreaker events when they search through the crowd of singles at the "Find your Number" party to locate their single match, or when their key opens up a lock of a handsome stranger at the "Lock and Key" event. Many singles particularly enjoy the coordinated speed meeting event so they can have some valuable one-on-one time with group members of the opposite sex. There are plenty of other chances to gather and celebrate throughout the week on the beach, at the pool, or in the clubs.
Game Addict
For those who are addicted to playing games, they are in luck. Gamers can engage in fierce competition against a team of the opposite sex at the popular Battle of the Sexes trivia game session. The high-energy rivalry tests the singles and their teammate's knowledge on a variety of interesting and comical topics. There are plenty of other opportunities to sharpen their game playing skills throughout the cruise at Pictionary and card sessions, ping pong tournaments, and putt-putt golf matches.
Sports Enthusiast
If sports are a cruiser's passion, they can impress the active single ladies or men by landing a few spikes in a lighthearted volleyball match, competing in a friendly basketball shootout, or catching up with the group for a Power walk or jog on the ship's outdoor track. They can also meet other active singles for a heart-pumping workout in the ship's fitness center or sign up to take a challenging yoga or pilates class with a new friend. If a person would rather watch sports than play them, they will most likely find a sports bar on the ship equipped with a big screen t.v. to catch the big game with their pals.
Adventurer
There are plenty of opportunities to try something new onboard a singles cruise. Vacationers can learn how to dance the tango during SinglesCruise.com's hosted dance lessons, showcase their singing voice at one of the group karaoke parties or dress the part for a 50's and 60's sock hop. Thrill seekers will want to sign up for an exhilarating singles-only shore excursion offered in most cruise ports such as zip-lining in a lush tropical rainforest , cave tubing down a rumbling river, hiking through the historic Mayan ruins, or snorkeling through breathtaking coral reefs.
Food Lover
The self-proclaimed foodies in the group will enjoy exploring all the distinct dining options offered onboard their cruise with new dinner companions as well as participating in SinglesCruise.com's hosted culinary events. They can meet and mingle with other cruisers at organized ice cream socials, cocktail mixers, breakfast or lunch clubs, pizza parties, tea time, and the highly anticipated wine and chocolate party. Cruisers bring a bottle of wine and decadent chocolate treats from their home states or countries to share with the group. If they are still hungry after a busy day of sightseeing and group activities, they will be sure to find a partner or two interested in hitting up the midnight buffet with them.
"The best part about joining a SinglesCruise.com vacation is that you can pick and choose what singles events you would like to join – it's your vacation!" explained Shelby Bergeron, SinglesCruise.com's lead cruise director. "Of course, we encourage our single travelers to attend as many outings as possible to connect and develop a rapport with the others in our group."
For a complete list of upcoming 2010 or 2011 sailings with SinglesCruise.com, visit http://www.SinglesCruise.com or call 800-393-5000.
###