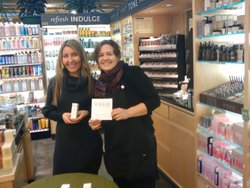 "I am thrilled to see our Organic Argan Oil on the shelves of Whole Foods" says Lilya Sorkin, Founder and President of Soelle Beauty. "They are the ideal retail outlet for Soelle Beauty and my health conscious consumers who seek new products and all natur
Newton, MA (PRWEB) March 2, 2010
Soelle Beauty, an all-natural skincare and beauty company (http://www.soellebeauty.com), made its debut in Whole Foods Market. Soelle Beauty's popular organic argan oil will now be sold at 27 Whole Foods locations throughout New England. This rare oil (found only in Morocco) known for its anti-aging and healing properties, has been used for centuries to protect the skin, hair and nails. Argan oil is rich in the powerful antioxidant vitamin E and has strong anti-inflammatory properties. Soelle's organic argan oil, the all-purpose beauty serum, can be used to prevent wrinkles, prevent scarring, regulate skin's oil production, mend split ends, treat dry cuticles, help with eczema, dry skin and much more.
"I am thrilled to see our Organic Argan Oil on the shelves of Whole Foods" says Lilya Sorkin, Founder and President of Soelle Beauty. "They are the ideal retail outlet for Soelle Beauty and my health conscious consumers who seek new products and all natural alternatives to their beauty routine."
Soelle Beauty's organic argan oil will be the only multi-purpose product of its kind in the Whole Body aisles at Whole Foods. The Whole Body department staff at the country's largest natural and organic retailer was eagerly awaiting argan oil to hit the shelves. This is the perfect product for a socially responsible retailer like Whole Foods Market. Soelle's organic argan oil is 100% pure and its benefits are both personal and socio-economic. Not only does it revitalize the hair, skin and nails, it also supports the Moroccan women's cooperatives that produce this product, which is another reason that Whole Foods consumers can feel positive about buying Soelle Beauty's oil.
Founded in 2008, Soelle Beauty develops and produces products that are always mindful, pure and healthy. Soelle Beauty's philosophy is to use the purest, most effective ingredients the earth has to offer. Soelle Beauty's organic argan oil is the earth's perfect, all-purpose beauty serum to nourish your skin, hair and nails.
About Soelle Beauty:
Established in 2008, Soelle Beauty was started by local entrepreneur Lilya Sorkin, who was forever in search of pure and organic beauty products. She came across argan oil during one of her travels to Morocco and the rest is history.
###