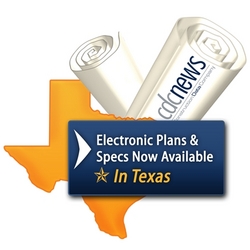 Vero Beach, FL (PRWEB) March 1, 2010
Construction Data Company, publisher of CDCNews.com officially launched its electronic plan and specbook service in several key markets in Texas. All CDCNews coverage areas in Texas will now have access to CDCNews Electronic Plan and Specbook service.
President Bill Black: "We feel our customers in Texas deserve a break from the high costs associated with plan acquisition. We can now help construction companies avoid the fees associated with non refundable plan deposits, as well as the disruption of having to send staff to pick up hard copy plans. Our customers will now be able to do their job more efficiently right from their desktop."
The product is well thought out and includes many time saving features. CDCNews aims to improve the workflow and efficiency of construction professionals during the evaluation and bidding stages of commercial construction. The electronic plan and specbook service has many time saving features.
Additional electronic plan and specbook features include:

Work from the most up-to-date set of plans at all times.
Run multiple takeoffs from any web enabled pc anytime.
Navigate sections and specific trades quickly while saving notes for quick return to past work.
Print, email, or save plans to a file or jump drive
Keyword search specbooks to save time.
For more than 32 years CDC News has been the trusted publisher of construction leads in the Eastern Region of the United States. General Contractors, Construction Management Professionals, Subcontractors, Material Suppliers, and Estimators all use CDCNews to locate contractor leads and construction bids.
Companies residing outside Texas are invited to a free trial of the CDCNews construction lead service.
Offering more than just a construction lead service, CDCNews currently offers the electronic plan and specbook service to Maryland, Virginia, Texas, and Washington D.C.. CDCNews provides clients with comprehensive, up-to-the-minute, verified bid information about commercial construction leads in their area.
Additional construction bid features include:

Verified cost estimates
Quantitative project descriptions
Pre-bid meeting notification
Complete plan holder information
To take advantage of the free construction lead Trial you may visit CDCNews.com
Texas County Coverage Areas Include:
Anderson, Angelina, Aransas, Archer, Atascosa, Austin, Bandera, Bastrop, Baylor, Bee, Bell, Bexar, Blanco, Bosque, Bowie, Brazoria, Brazos, Brooks, Brown, Burleson, Burnet, Caldwell, Calhoun, Callahan, Cameron, Camp, Cass, Chambers, Cherokee, Clay, Collin, Colorado, Comal, Comanche, Cooke, Coryell, Dallas, Delta, Denton, DeWitt, Dimmit, Duval, Eastland, Ellis, Erath, Falls, Fannin, Fayette, Fort Bend, Franklin, Freestone, Frio, Galveston, Gillespie, Goliad, Gonzales, Grayson, Gregg, Grimes, Guadalupe, Hamilton, Hardin, Harris, Harrison, Hays, Henderson, Hidalgo, Hill, Hood, Hopkins, Houston, Hunt, Jack, Jackson, Jasper, Jefferson, Jim Hogg, Jim Wells, Johnson, Karnes, Kaufman, Kendall, Kenedy, KerrKleberg, La Salle, Lamar, Lampasas, LavacaLee, Leon, Liberty, Limestone, Live Oak, Llano, Madison, Marion, Mason, Matagorda, McLennan, McMullen, Medina, Milam, Mills, Montague, Montgomery, Morris, Nacogdoches, Navarro, Newton, Nueces, Orange, Palo Pinto, Panola, Parker, Polk, Rains, Real, Red River, Refugio, Robertson, Rockwall, Rusk, Sabine, San Augustine, San Jacinto, San Patricio, San Saba, Shelby, Smith, Somervell, Starr, Stephens, Tarrant, Taylor, Titus, Travis, Trinity, Tyler, Upshur, Uvalde, Van Zandt, Victoria, Walker, Waller, Washington, Webb, Wharton, Wichita, Willacy, Williamson, Wilson, Wise, Wood, Young, Zapata, Zavala
Some Cities Included in CDCNews Electronic Plan and Specbook Coverage:
Arlington, Austin, Canton, Carrollton, Corpus Christi, Dallas, Duncanville, Fort Worth, Frisco, Galveston, Greenville, Houston, Jasper, Katy, Kingwood, Lake Worth, Leander, Plano, Rosenberg, Round Rock, San Antonio, Spring, Sugar LandThree Rivers, Victoria, Waco, Wichita Falls, Willow Park
###