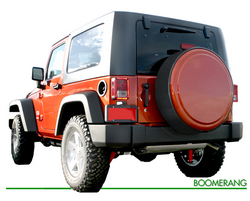 We have streamlined our operation and focused the entire company on the importance of quality at every level of the organization
Boulder, CO (PRWEB) March 2, 2010
Boomerang Enterprises, Inc, a Boulder, Colorado based manufacturer of OEM and aftermarket automotive accessories, has recently been certified for the ISO 9001:2008 compliant Quality Management System (QMS) they implemented over the past year. Boomerang received their Certificate of Registration in February, after completing an extensive audit at the beginning of the year conducted by QMI-SAI Global, North America's leading management systems registrar.
"I am very proud of the hard work of our staff and the dedication they have shown over the past year by integrating a customer focused Quality Management System that meets the ISO 9001 standard into our operation," says Christopher Fischer, president, Boomerang Enterprises, Inc. "As a result, we have streamlined our operation and focused the entire company on the importance of quality at every level of the organization." Fischer believes a company's quality is reflected in more than just their products and should be visible in all aspects of operation including customer service, accounting and all steps of the manufacturing process.
In a move considered atypical of industry standards, the Boomerang management team took the initiative to become ISO 9001 compliant prior to experiencing pressure from customers or their competitors. Recognizing that ISO certification could increase their company's visibility and make them more competitive in a global marketplace was half the picture. According to Fischer, "It also just makes good business sense. Our Quality Management System makes us a better, more efficient company
About Boomerang Enterprises, Inc.
Boomerang Enterprises, Inc. was founded in 1995 in Boulder, Colorado and is a manufacturer of quality automotive accessories. Boomerang's manufacturing capabilities include thermoforming and injection molding of plastic and industrial sewing. Their products include tire covers for Hummer, Jeep, Toyota and Land Rover vehicles, and center armrests for Acura, Saturn, Scion and Ford vehicles.
About ISO
ISO 9001 is an international quality standard developed by the International Organization for Standardization (ISO), a worldwide federation of national standards bodies representing some 130 countries.
About QMI-SAI Global
QMI-SAI Global issued its first quality assurance certificate in 1983, and as North America's first, and leading management systems registrar, boasting a team of some of the most knowledgeable and experienced auditors worldwide many of whom are involved in the development and ongoing evolution of the ISO 9000 family of standards.
Media Contact:
Chris Fischer
303-447-0902
http://www.boomco.com
http://www.hummertirecovers.com
http://www.astraarmrest.com
###