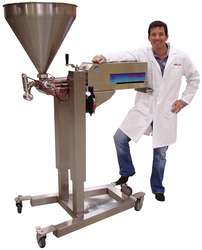 Change always comes bearing gifts.
Delta, B.C. Canada (Vocus) March 1, 2010
Recession spending is predicted to continue in 2010 as stagnant wages and concern over mounting unemployment is causing consumer confidence to wane (Bloomberg.com). This however is not entirely doom and gloom for the food and baking industry. Price Pritchett reminds us that "Change always comes bearing gifts." People still have to eat during a recession, it is just a matter of where, what and how much.
There are recession proof food and beverages that have faired well during these tumultuous times. Frozen meals recorded a total sales increase of 4.5% in 2009 despite a minus 0.3% forecasted decline (Mintel Research). Baking goods grew 2.8% in 2009 and side dishes were another winner growing 5% in 2009 with this growth rate forecasted to continue through much of 2010.
Based on the growth numbers we saw for frozen meals, bakery foods and side dishes, producers are not seeing "recession-proof" products but rather "recession fueled" products. Those companies who recognize that empty tables at restaurants equate to more products in the shopping cart, will not only weather the storm but also increase sales and gain market share while other industry sectors lag behind. In other words, recession weary consumers look to save money by choosing the grocery store and eating at home rather that dining out.
It is one thing to recognize this shift, but how do companies go about adjusting to change and positioning themselves for this opportunity. With the commodity market still in turmoil, waste management and effective cost forecasting are paramount for maximum productivity.
One of the most effective ways producers can control product loss and ingredient forecasting is by automating processes in the plant. It starts by buying reliable product portioning machines like a depositor/ filler. Depositors are often overlooked in lieu of more common mainstays such as ovens, scales and tables — even though the average return on investment for these workhorses is six months.
There are a wide variety of depositing and filling options available. In order to maximize your return on investment, there are a few important things to consider. Set up, wash down, cycle rate and accuracy will determine whether your depositor is in use all day or whether it sits in the corner. The more versatile, modular and simple the machine, the fewer headaches for your production staff.
Unifiller Systems in Delta, British Columbia Canada recently released the new I-series depositors for 2010. These depositors offer the user increased precision in speed adjustment and portion control and can be fitted with over 100 standard Unifiller attachments.
"A well designed depositor should offer precise portion control, be simple to use, easy to clean, and thorough machine sanitation are increasingly important factors for today's chefs and bakers", says Stewart McPherson of Unifiller Systems
Any time there is change there is always a window of opportunity for those willing to open the curtains to new markets. Now is the time to keep your ears to the ground and experiment with new products.
###