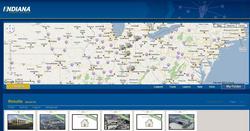 It quickly became clear that GIS Planning was going to be the superior choice due to their price, offered level of functionality, reputation of attentive customer service, and their existing national market share.
San Francisco, CA (PRWEB) March 1, 2010
Indiana Economic Development Corporation has launched StateIN.ZoomProspector.com, a powerful business tool designed to attract new jobs across the state of Indiana. The website, built upon the ZoomProspector Enterprise technology provided by GIS Planning Inc., positions Indiana at the forefront of economic development organizations websites.
According to Mitch Roob, Secretary of Commerce and Chief Executive Officer of the Indiana Economic Development Corporation, "StateIN.ZoomProspector.com is an important economic development initiative for the state of Indiana. The website helps every city and town in Indiana showcase the information companies need to make corporate site-selection decisions and business investment in our local communities. We are excited about leveraging the power of this dynamic website to foster business and job growth in the entire state of Indiana."
The website's groundbreaking features include a revolutionary new user-interface for a dramatically improved user experience, the most sophisticated community and business analysis capabilities available in the market, as well as a social media strategy that is fully integrated within the website.
"A group of individuals representing the economic development community, including utilities, local and regional EDOs, and the State evaluated competitive submissions from prospective vendors from all over the country to host the State's new sites-and-buildings data base," said David Meehan of the Indiana Economic Development Corporation. "It quickly became clear to the group that GIS Planning was going to be the superior choice due to their price, offered level of functionality, reputation of attentive customer service, and their existing national market share. We are looking forward to utilizing the new tool provided by GIS Planning as one more way we hope to communicate to the world that Indiana is a great place to do business." Click here to see their press release on this launch.
The geographic information system (GIS) powered website is centered around an interactive online map that offers sophisticated capabilities including Google Street View and Google Earth, as well as "heat maps" showing concentrations of demographic data. Local property owners can easily showcase their unique properties through detailed property information and an interactive slideshow of photos.
According to Anatalio Ubalde, CEO and co-founder of GIS Planning, "The Indiana Economic Development Corporation had one of the most sophisticated requirements for their sites and buildings website, and we are proud to have provided them with a website that delivers. It has been a privilege to partner with a forward looking organization like the Indiana Economic Development Corporation in fostering local job growth, and we are confident that this website will provide commercial site-selectors with the data and tools they need to make location decisions within the state of Indiana."
The website is also integrated with GIS Planning's national site selection search engine called ZoomProspector.com, which allows website visitors to do a national search of cities and commercial properties that match their unique criteria. When a community or any commercial property in Indiana matches a business search on ZoomProspector.com, the user will then be able to click through to the new GIS website to analyze the unique business advantages.
About GIS Planning, Inc.
As the inventor of online GIS implementations over 12 years ago, GIS Planning Inc. today has over 200 Economic Development Organization GIS implementations. With the majority of the 100 largest cities in the USA and covering over 11,500 cities as clients, its ZoomProspector Enterprise technology is the industry standard in economic development.
GIS Planning is also the parent company of ZoomProspector.com, the largest nationwide website for corporate real estate professionals and site location experts seeking the right location for their business. GIS Planning is an exclusive partner of the International Economic Development Council, and has been on the Inc. 5000 list of the fastest growing private companies in the US for the past three years. In addition, GIS Planning has been covered in over 100 leading news publications, including The Wall Street Journal, BusinessWeek, Forbes, Fortune Small Business and Inc magazine.
About Indiana Economic Development Corporation
The Indiana Economic Development Corporation (IEDC) is the State of Indiana's lead economic development agency. The IEDC was officially established in February 2005 to replace the former Department of Commerce. In order to respond quickly to the needs of businesses, the IEDC operates like a business. Led by Indiana Secretary of Commerce and IEDC Chief Executive Officer E. Mitchell Roob, Jr, the IEDC is organized as a public private partnership governed by a twelve-member board. The IEDC Board of Directors is chaired by Governor Mitch Daniels and reflects the geographic and economic diversity of Indiana. The IEDC focuses its efforts on growing and retaining businesses in Indiana and attracting new business to the State of Indiana.
The IEDC is focused exclusively on economic development and has incorporated all state entities with economic development responsibilities into its organizational structure. With its new structure and improved tool-kit resulting from a successful legislative effort undertaken by the Governor and the Indiana General Assembly, the IEDC is equipped and ready to make Indiana competitive in the 21st Century economy.
# # #