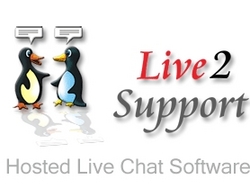 At a starting price of $9.95 per month, we are not just among the industries most affordable and competitively priced but also the industry's most frequently updated software solution for dedicated and real time live chat
Long Island City NY (PRWEB) March 1, 2010
In its continuing effort to provide companies with state-of-the-art solutions that help them to deliver a competitive user experience to their site visitors, prospects and existing customers, live chat software leader Live2Support has launched Windows Desktop Application 3.0, the Windows version of its live help application. The fully functional 15-day trial download of the application, available from the company's website, can be used to experience not just the program's intuitive and seamless user interface, but also its operator-friendly functionality.
"We believe Live2Support to be the avant-garde application in its segment with hundreds of new feature-packed attributes not currently available in most live chat applications," said Kumar Jeswal, company founder and CEO, who unveiled the latest version of the software recently. "At a starting price of $9.95 per month, we are not just among the industries most affordable and competitively priced but also the industry's most frequently updated software solution for dedicated and real time live chat," he added.
Features at a Glance
While many companies continue to successfully use the browser-based version of Live2Support in which the entire application is served up, managed and maintained remotely on company servers, an increasing number of the company's customers have opted to use the Windows version of the live help software system. The Windows version does not require you to place your Internet web browser in the launch mode constantly thus providing a clean and accessible interface. The Windows version, once invoked, resides in the system tray and is instantly activated when a chat query is received. Owing to its revolutionary design and the deployment of industry best practices, the Windows version is extremely stable with near zero downtime and impressive speed of execution. Due to its backwardly compatible capability, Windows Desktop Application 3.0 is compatible not only with Windows 7 and Window Vista but also with Windows XP. The speed and reliability of the application is never compromised regardless of the version of the Windows operating system that is used on the workstation. While logged into Live2Support using any one of the various Windows platforms available, chat operators can now chat with one another much like intranet e-mail communication. Moreover, this activity can not only be tracked by supervisors, chat transcripts too can be generated. This intra-company chat communication in real time provides an excellent forum for operators to seek clarifications from colleagues and managers, escalate pending issues internally, and receive training and tips from experienced chat operators. What is more, Windows Desktop Application 3.0 also makes it possible for more than one chat operator to use the same workstation through an independent login process. This helps to conserve valuable resources of various types and enables companies to use the same facility for multiple shifts without the need to share passwords.
Multiple Language Support for Live Chat
Live2Support's Windows Desktop Application 3.0 is based on a robust multi-language delivery process model. Chat operators can not only spell check their chat messages in one of several languages as is the case with e-mail messaging, both the chat operator monitoring windows can be customized in several languages. The list includes Spanish, Portuguese, French, German, Italian and many more. The capability which enables chat customers wishing to receive live support through live chat in their native languages has already been implemented by Live2Support in a previous version.
More Highlights for High-impact Live Chat
Additional features of Windows Desktop Application 3.0 which make it truly revolutionary include:

Live display of active keywords in the Visitors Monitoring Window for chat operators to assess the nature of the chat query at a glance
New option for live chat operators to accept live chats automatically in order to expedite and streamline throughput and manage visitor traffic effectively
Provision for live chat operators to customize and deliver their own canned responses to customers seeking live help and Push URLs that remain active only in the chat operator's account
Clearly audible sound alerts for critical functions such as chat requests from customers and the arrival of chat transfers from another chat operator which operators can safely test in advance by using the TEST button
The latest version of Live2Support Windows Desktop Application 3.0 also includes a time stamp and digital record keeping function in the Operator Chat Window which is ideal for generating user stats and record keeping. Chat supervisors can now access the complete chat history of visitors always available in the Visitors Chat Monitoring Window without having to invoke live chat. In other words, active chat engagement is no longer a prerequisite for accessing chat transcripts.
About Live2Support
Live2Support Inc. was founded in 2002 to provide online customer engagement solutions to organizations around the world with an Internet presence. The company's live help software has been developed to address the needs of multiple segments of various online communities and e-commerce enterprises including banking, insurance, education, shopping, counseling and others by acting as a two-way communication conduit between site visitors and online enterprises. Advanced-level customization capabilities facilitate the use of the corporate logo, signage, fonts, colors and the strategic positioning of the chat window on web pages thus enabling businesses to give a personalized look and feel to live chat interactions with customers. The live chat software's flexibility and versatility allows companies to tailor independent and separate chat windows for departments such as sales, product promotions, technical support, billing and customer service departments. Live2Support's live support application generates detailed chat transcripts. This enables companies to use these transcripts to conduct market research, develop customer profiles, train chat operators and evaluate chat operator performance. Visit http://www.Live2Support.com for a 15-day risk free no obligation trial.
###