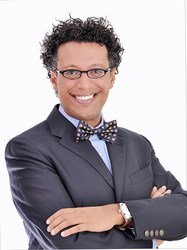 'It was overwhelming to see myself among the list of people'
New York, NY (PRWEB) March 1, 2010
Said A. Baghil is the most renowned and sought after marketer in the Gulf Region. He is an innovator par excellence. With a track record of creating radical brands in the Gulf market, nineteen years of strategic marketing experience, as well as being an uncompromising brand activist, he has rightly earned a reputation as being 'an indomitable force in the field of marketing'.
Author of 'Eccentric Marketing', Baaghil's goal was to awaken the Arab business world to the benefit of creating brands. He elucidates how to create a union between the audience and the brand, by creating a breakthrough in a category, through innovation. Forever the spirit of a revolutionary, he stresses the importance of marketing strategies first, as being the driving force of advertising and sales, rather than the other way around.
With that perspective, it was a privilege to have the opportunity to appraise Dan Hill's 'Emotionomics' book. Dan Hill is the president of 'Sensory Logic' and a renowned expert on communication and consumer interaction. Baaghil was thus humbled with the request and keen to read the book, which he completed in only a few days. He says 'The book was an eye opener with regards to what the Middle East lacks, namely marketing with a heart and developing the emotional brand. The approach, is an entire change of how brands become a big thing' says Baaghil. Surely, re-inforced by Dan's perspective, Baaghil is yet more determined to create emotions which drive results.
Once he received a copy of the published book, he says 'It was overwhelming to see myself among the list of people'. Other reviewers included the esteemed Philip Kotler, Martin Lindstrom and Dan Pink to mention but a few. Baaghil is honored to have been able to contribute to the praise and to side with others global leaders amongst his field, especially being the only Arab. He owes his passion and drive for success to his parents who have been an incredible support and who have instilled in him, the inquisitive mind of the searcher and the reformer.
Baaghil is a marketing strategy consultant operating under his company Ask Baaghil. He has created a company called 'Logic' where he was able to created landmarks brands in the city of Jeddah Saudi Arabia, in the food and beverage sector for a renowned Saudi family. Currently, Baaghil is continuing to provide consultancy on marketing strategies, for various reputable brands locally and globally.
In his vision to spread awareness regarding innovative marketing practices, he regularly writes articles in the Gulf Marketing Review, the region's reliable source of information for all information regarding marketing, advertising and media. He also gives lectures in the leading universities in the city of Jeddah. He has recently delivered a speech in the Jeddah Chamber of Commerce regarding 'Living Brands'. Baaghil published his book 'Ecccentric Marketing' in January 2008. Baaghil is working on his second book which will be released tentatively, in May 2010.
His personal website is askbaaghil.com, yet it is still under development. He can be contacted baaghil(at)askbaaghil(dot)com.
###