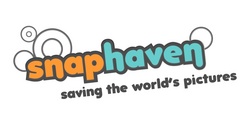 We designed the full service program to work seamlessly with our current lifetime-guaranteed storage
New York, NY (Vocus) March 2, 2010
Swiss Data Group today announced a new range of scan and upload services offered by SnapHaven (http://www.snaphaven.com), the only consumer photo site that guarantees safe and accessible photo storage for life. Members can now take advantage of dedicated SnapHaven specialists who will offer friendly, one-on-one assistance for any need. These personal specialists will take care of everything for members – from basic help questions to finding, sorting and uploading both their digital and printed photos.
Specialists can now help members upload photos to SnapHaven in several ways:

Mail in CDs, flash drives and other storage media: A customer can send CDs, flash drives, memory cards or other storage devices filled with photos, and a Specialist will upload those straight into their account.
Send in prints for scanning: Users can mail in existing printed photos, and a Specialist will take care of the rest and scan and organize them into existing albums.
Import from other photo sites: Specialists will find and transfer any photos a member has stored elsewhere on the web to a SnapHaven account.
"We designed the full service program to work seamlessly with our current lifetime-guaranteed storage," said Mike Bevans, Co-Founder and Chief Evangelist at SnapHaven. "People often have pictures scattered around their homes, on disks or around the Internet. We wanted to make it easy for them to get all their memories together, in one safe place. With this solution we aim to be the one-stop shop for safeguarding these memories for life."
To register for an account or to learn more about today's announcement, call 646.257.4056 or visit http://www.snaphaven.com.
About SnapHaven:
SnapHaven is the only consumer photo site to guarantee the safe storage of cherished memories for life. The latest service of Swiss Data Group provides users with some of the most secure storage systems in the world powered by 98% carbon free energy, coupled with an easy to use interface ideal for online sharing, organizing and print making.
About Swiss Data Group:
Swiss Data Group sets a new standard for data storage. With an innovative archival infrastructure incorporating five separate levels of defense, Swiss Data Group is the only company capable of guaranteeing the safe storage of data for a lifetime. For more information visit http//http://www.swissdatagroup.com.
###