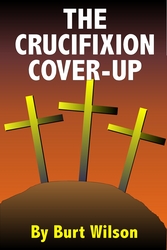 Carmichael, CA (PRWEB) March 18, 2010
Wilson says it was an impalement from back to front underneath the pelvic bone which supported Jesus' body on the cross.
It was necessary to cover up the true nature of crucifixion during the reign of Constantine I, Wilson says, because the people of Rome were leery of accepting Jesus as a "living Son of God" because they were not used to having their historic Gods allow the Crucifixion of their own God-sons. In all popular myths, the Gods intervened and saved their sons from harm.
"Roman citizens knew exactly what crucifixion was really about," Wilson says, "and the idea of a 'living God' on earth being subjected to such inhuman cruelty in order to die for their sins was too much guilt for them to bear. Imagine a crucifix on the wall with a steel shaft sticking out from Jesus' belly!"
Wilson says the truth was "revised" with a story that was less cruel and which, after three generations, would become the Veritas Catholica--the Catholic truth.
"The Crucifixion Cover-up" is available at Amazon.com, Borders.com, lulu.com and can be ordered from Wilson's website at http://www.ancientwisdomcentral.us
###