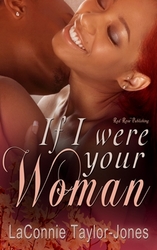 Passionate new romance about imperfections, trust, and unconditional love!
Houston, TX (PRWEB) March 3, 2010
First there was Marcel. Then A. J. Now there's the sinfully sexy, piano playing Raphael. Yes, those hard to resist Baptiste brothers are back in award-winning writer, LaConnie Taylor-Jones' new ebook, "If I Were Your Woman (Red Rose Publishing, 2010, ISBN 978-1-60435-608-3, $5.99 US)" that releases March 4, 2010.
Life couldn't be sweeter for Raphael Baptiste. He's a lawyer turned Grammy award-winning music icon who's admired by women all around the world. One admirer in particular is, Dr. Laney Houston, the one woman who isn't afraid to challenge him at every turn. Make no mistake about it, challenges are something that Raphael thrives on when it comes to the fairer sex. But before he can rise to what the beautiful doctor has in store for him, Raphael is devastated by some personal news of his own that will change the course of his life -- forever. But through it all - the good, the bad, and the ugly - Laney is right by his side. She isn't deterred by Raphael's past and bitterness over his situation because she realizes everyone comes to love not by finding the perfect person, but by learning to see an imperfect person perfectly.
In, "If I Were Your Woman," LaConnie Taylor-Jones gives readers an emotional, yet passionate new romance about imperfections, trust, and unconditional love!
Praise for "When I'm With You". . .
"This is a fast-paced story with a plot that focuses on family, trust, and redemption. It was interesting to see the history of abuse and the similar reactions that the abused characters had. There were also parts that are heart-warming and funny. "When I'm With You" is a quick and enjoyable read, and Ms. Taylor-Jones handled a distasteful subject well.
-- Romance in Color, August 11, 2007
Praise for "When a Man Loves a Woman". . .
"When A Man Loves A Woman" is a powerful testament of perseverance. The character development flows intimately with the story line, making you part of the Baptiste family. The romance, while believable, instills hope in the love that is available in the world. Taylor-Jones' sophomore project definitely proves she has the gift of writing page-turning romance. Can't wait to see what she has coming out next.
-- Affaire de Coeur, March/April 2008 - Reviewer's Pick
About the Author
LaConnie Taylor-Jones, a native Memphian, is a health educator consultant and holds advanced degrees in community public health and business administration. LaConnie has been an active member of the San Francisco Area Chapter of RWA since 2003 and received the Romance Slam Jam 2008 Emma Award for her Baptiste Family saga debut, "When I'm With You" that was released in 2007. She published her second novel, "When A Man Loves A Woman," in 2008 and now rounds out the family saga with, "If I Were Your Woman," that releases March 4, 2010. LaConnie Taylor-Jones resides in Northern California with her family.
Visit LaConnie Taylor-Jones online for more information - http://www.laconnietaylorjones.com
"If I Were Your Woman" goes on sale March 4, 2010 at Red Rose Publishing - http://redrosepublishing.com
"If I Were Your Woman"
LaConnie Taylor-Jones
Red Rose Publishing, March 1, 2010
$5.99 US; ISBN: 978-1-60435-608-3
###