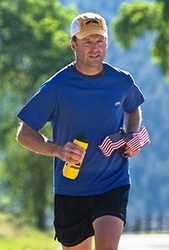 One Life. One Flag. One Mile.
Driggs, ID (PRWEB) March 2, 2010
A US Army Veteran will be running 4522 miles across America to honor our fallen troops in Iraq.
Mike Ehredt, a United States Army veteran and retired US Postal Clerk, is an accomplished ultra-marathon runner and cyclist. He will be running solo and unsupported across America. Ehredt is planning and carrying out this endeavor as a way to honor US servicemen and women who have sacrificed their lives in Iraq since 2003.
"It is my objective to create an invisible holding of hands from one service member to the next, flag to flag, ocean to ocean," says Ehredt. "One Life, One Flag, One Mile."
Ehredt's run will start in May, 2010, at the shore of the Pacific Ocean in Astoria, Oregon, and he will run to the Atlantic Ocean in Rockland, Maine. He will carry his supplies, gear, emergency kit, and communications equipment in a jogger's stroller and he will stay with volunteer host families across the U.S.
Ehredt will average 29 miles per day for a total of 4522 miles in approximately 157 days. Each mile he will place a small American flag with each service member's name, rank, home town, age, and date of death as a memorial and a silent symbol of thanks. After each flag is placed, Mike will salute.
Ehredt helped make his cross-country run a reality by recruiting volunteers around the country. He asked for help from friends and family in his hometown of Driggs, Idaho, to prepare flags, gather host family information and organize supply boxes. These local volunteers spread the word of Ehredt's endeavor and a national network of volunteers was established.
Project America Run Facts
-- US Army Veteran will be running 4522 miles across the United States
-- Endeavor is solo and unsupported
-- One flag is placed for every US service member who died in Iraq since 2004
-- Run starts at Astoria, Oregon, on May 1, 2010
Project America Run is accepting donations through Jackson, Wyoming, based Honoring Our Veterans, 501(c)(3). Project America Run is sponsored by Patagonia, Vasque, Silver Star Communications, Yostmark Mountain Equipment, Tram Bars, Drymax, Alipse, Peak Printing, Daydream, American Massage Therapy Association, and Pharmanex. For more information, please visit: http://www.projectamericarun.com.
###