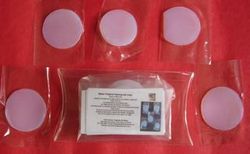 "Well, it works, and I just saved the price of new hearing aids." "Great item, didn't seem much on delivery, but the comfort it gives is unbelievable!" "Wish I had found this earlier, absolutely awesome product, thank you"
Toms River, NJ (PRWEB) March 2, 2010
Originals by Weber, Terrance L. Weber, owner, of Toms River, NJ announces immediate availability of Weber Hearing Aids Liners (Patent Pending). Made in the U.S.A., these new hearing aids liners are made to overcome the problems experienced by many hearing aids wearers such as: loose or uncomfortable fit as well as annoying and unwanted wind noises and many other disturbing squeals and beeps. Wearers of hearing aids often find it necessary to adjust the position of their hearing aids to eliminate annoying noises and to get the hearing aids into a more comfortable position. To overcome these problems, the wearer can simply put the always soft and finger moldable Weber Hearing Aids Liners around the edges of the hard plastic shell of the hearing aid. The user can then press the soft, moldable Liner into position until it fills any gaps. In this way the Liner is used to provide both a tighter fit and the elimination un-wanted hearing aids noises.
In short, these handy Weber Hearing Aids Liners take the mess and bother out of wearing hearing aids. The Liners provide comfort that is almost unbelievable, while at the same time giving the hearing aids wearer a low cost, money saving alternative to very expensive re-molding or replacement of the hearing aids.
When Weber was asked what kind of comments he gets from his hearing aids liner customers, he replied with the following examples:
"This stuff really works, I highly recommend it."
"Great item, didn't seem much on delivery, but the comfort it gives is unbelievable!"
"Wish I had found this earlier, absolutely awesome product, thank you"
"The hearing aid product I purchased from you is working great on my husband's (hearing aids) - not one time has it whistled since using your product."
"Well, it works, and I just saved the price of new hearing aids."
"This is the greatest stuff!!!! It really works! No more expensive ear molds!!!"
"Boy, I really needed this. Extremely fast shipping. Thanks!"
Specifications: These Weber Hearing Aids Liners are available in a package with 5 (five) individually wrapped 1-3/4" diameter disks. Each disk is approximately 1/8" thick.
Liners are made in the USA. The price of one package of Weber Hearing Aids Liners (with 5 Liners) is $17.95 plus s/h at $2.00. Satisfaction is guaranteed or money back. For more information you are cordially invited to call: 1-877-309-8382, or visit the Website to see more details or to place your order: http://www.originalsbyweber.com or write to: Originals By Weber, 338 Alabama Avenue, Toms River, NJ 08753
###