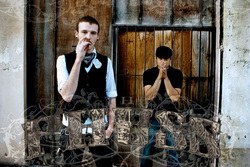 The result is an engaging storyline and visually stunning piece, set to one of the strongest rock songs to emerge from Texas in a very long time.
Dallas, TX (PRWEB) March 2, 2010
Dallas rock band The Phuss and their production team at Battle Flag Records have gone to great lengths to make sure that the new music video for their song "Preacher, Preacher" is one-of-a-kind. The song itself has a certain ferocity--it emotes exhaustive, undeniable passion and energy, demanding the listener to take notice. It only seemed right that the band should augment such an important piece of their work with a real video.
"Preacher..." is but one chapter from the band's new CD Wanted, a concept record that follows an evil outlaw named Billy Two-Step through a small town in the Old West as he terrorizes the townspeople and wreaks havoc on everyone he meets. The video captures this outlaw at a pivotal point in the album's storyline--a riverside baptism that quickly turns into the attempted murder of a preacher from Billy's past. With such an ambitious plot to convey, the band knew they had their work cut out for them in creating a video that could match the intensity of the events within.
To accomplish this challenging task, the team enlisted the talents of visionary director Matt Cooper, whose resume includes pieces for Jet, Drowning Pool, and Dallas locals The Feds. Cooper constantly spouts ideas and creativity, so it didn't take him long to envision a way to bring the characters in "Preacher" to life. In addition to his elaborate and imaginative concept for the video, Cooper also opted for a vintage technology approach to photography: he decided against digital video, instead choosing to use 16mm film as his medium of choice. The next big step came when Cooper and his team constructed a freewheeling three-camera "mary" rig to capture the subject's actions from multiple angles simultaneously, recording three different perspectives of the same event from alternating points of view. To make sure the stage was correctly set, the team selected locations throughout rural Texas to serve as an authentic backdrop for the video's plot. The end result is an engaging storyline and a visually stunning piece, set to one of the strongest rock songs to emerge from Texas in a very long time.
But don't take our word for it. See The Phuss' new video for "Preacher, Preacher" starting on March 2nd at http://www.battleflagrecords.com, on iTunes, YouTube, or your digital content provider of choice. Also, keep an eye peeled for the video's appearance on FuseTV, FuseOnDemand, and Mark Cuban's HDnet beginning in the month of March.
For more information, or to schedule an artist interview or performance, contact:
###