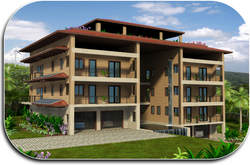 Learning from, and using Nature for energy, is the concept that earned the Enertia Building System the titles of MODERN MARVEL and The Most Innovative Structure of the Twentieth Century.
Wake Forest, NC (PRWEB) March 2, 2010
There is a new trend in resorts. Instead of bringing Vegas style manufactured-fun to an untouched island or jungle, Eco-Resorts protect the site and its natural plants and animals. This is not easy to do - and most resort planners and developers are not versed it it. So the TOTH Group, of Akron Ohio, hired Enertia Building Systems, a designer of solar and survival homes, to design and plan its new resort in Belize. Survival homes, a vestige from the Cold War era, are considered "Green" today because they make their own power (from the sun and the wind) and have means of capturing and storing rainwater, and the infrastructure for growing food.
Survival homes are seeing a resurgence from just the very hint of some kind of economy-collapse. For 25 years Enertia, a Youngsville NC kit-house maker, has been designing and supplying pre-cut packages for solid wood wall, self-heating and self-cooling houses that can stand alone without power or fuel. The exterior walls of the house are made of gluelams- the thick multilayered wood beams you usually see holding up the roofs of churches, arenas, and gymnasiums. This makes the building earthquake, hurricane, tornado, bullet, and fire resistant. Interestingly, such walls are made of 100% renewable material - out-greening any other construction method.
The TOTH Group property on the Macal River in the Cayo District of Belize, is in an area subject to hurricanes and earthquakes, and Enertia has been developing a new thermal-inertial self-cooling building technology; so Julius and Gabor Toth saw a match (http://www.edeninbelize.com/edenresort.html). The first building is a multi-story condo that uses the water features (an infinity-edge pool and two waterfalls) as cooling devices, before the water returns to the river - producing hydro power on-the-way. A 100KW wind generator, supplemented with Photovoltaic arrays, provides electricity and charging for the electrified Land Rovers and Toyota FJ's used to bring guests from a staging area in town.
Despite the modern amenities and high-tech design, Enertia has managed to maintain the Pre-Columbian architectural look, right down to the Mayan pole-sculptures which serve as zip-line towers. The concept has a future, and Enertia is already working with an Extreme Zone adventure firm in India on designs for that unique climate and culture.
###