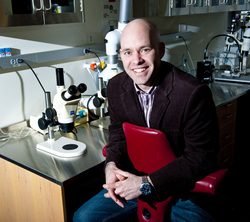 The Search for Research toolbar is an easy way for more Americans to help directly support much-needed investment in research.
Cambridge, MA (PRWEB) March 2, 2010
Taking action on its mission to make research a better career today and for future generations of scientists, BenchFly™, Inc., today announced the launch of Search For Research™, an international fundraising and scientific awareness program to benefit researchers worldwide. BenchFly is driving the program with the availability of a free, downloadable toolbar designed to raise donation money for every Internet search query performed, with no cost to the end user. BenchFly's premier Search for Research partner Sigma-Aldrich® (Nasdaq: SIAL), a leading life sciences and high technology company, is excited to contribute matching funds generated from use of the toolbar. The Search for Research toolbar is free to download and available now along with science videos, laboratory techniques and current protocols at BenchFly.com.
BenchFly will award 100 percent of the Search for Research proceeds directly to researchers in the form of microgrants, which are smaller and more targeted grant sums designed to empower individual members of the scientific community. Any scientist, anywhere in the world, is invited to apply and compete for a BenchFly Microgrant. Putting a modern twist on science's traditional peer review model, BenchFly will determine the final award recipients by hosting a global popular vote open to the public through BenchFly's company page on Facebook.
"After working as a bench scientist for nearly 15 years, I know the daily challenges researchers face when limited by a tight budget. Our introduction of microgrants to impact research at the individual scientist level is a first in the scientific community," said third-generation chemist and BenchFly founder and CEO, Dr. Alan Marnett. "BenchFly is taking the lead to close the monetary gap where, due to countless restrictions, classic funding agencies fall short. With the Search for Research program, BenchFly will provide a financial and motivational boost to increase productivity by putting money where it matters most - into the hands of hard-working bench scientists who make the research world turn."
Show your science: Apply to win a BenchFly Microgrant
All scientists are eligible to apply for a BenchFly Microgrant, including graduate students and any researchers holding a masters degree or higher. For scientists familiar with the grueling grant-writing process, BenchFly promises to make this one fun and easy in comparison. Simply become a fan of BenchFly on Facebook and through the Search for Research page post 100 words or less describing the challenge you're facing and how a minimum of $500 would help to keep your research going.
The final number of BenchFly Microgrants and official award amounts will be determined by the total funds raised - that's why more toolbar downloads and more search queries performed means more money for research! Applicants may enter anytime between March 2 and May 7, 2010. Participants and the public can vote for their favorite nominees once a day through Facebook until May 7, 2010. Once BenchFly verifies the top entries, the official BenchFly Microgrant awardees will be named in May 2010.
To become a fan or to enter and vote for a microgrant winner, please visit BenchFly on Facebook.
Search for Research toolbar features
The Search for Research toolbar combines the robustness of a Yahoo! powered search component with built-in links to valuable resources relevant to today's scientists including tips, tricks and laboratory techniques to help enable their next breakthroughs, faster. BenchFly developed the Search For Research toolbar with its partner, FreeCause.
The Cause: Raise money to support research and keep scientists in science
The Georgia Institute of Technology revealed in a 2008 study that by as soon as 2020, the United States will no longer lead the world in the research and development of scientific products. Statistics such as this together with the faltering U.S. economy have put a tremendous strain on scientific research funding and as a result academic institutions, which serve as the bedrock of the global science sector, are scrambling to keep labs in the black and pay researchers. Through Search for Research, BenchFly endeavors to fund and empower bright individual researchers who are on the verge of scientific discovery but worry that their scientific futures may be cut short.
"BenchFly is taking a creative approach to engage the public in a stop-loss on science," said Mary Woolley, president and CEO of Research!America, the nation's largest not-for-profit alliance working to make research to improve health a higher national priority. "We need more such initiatives to promote collaboration and support young scientists and their innovative research, and the Search for Research toolbar is an easy way for more Americans to help directly support much-needed investment in research."
For official rules, to download the Search for Research toolbar or for more information about the program, including how to become a Search for Research global partner, please go to BenchFly.com.
About BenchFly, Inc.
BenchFly integrates life and laboratory techniques in order to make research a better career today and for future generations of scientists. By engaging scientists with honesty and humor, BenchFly provides researchers with the community and tools they need to develop both professionally and personally. Through free and researcher-generated content such as online science videos, current protocols, laboratory techniques and career and personal development advice, BenchFly empowers scientists to overcome the challenges they face in lab everyday to enable their next big breakthroughs, faster. Founded in Cambridge, Mass. by an MIT post-doc, Alan Marnett, PhD, in 2009, BenchFly, Inc. is privately held. Visit us at BenchFly.com
BenchFly and Search for Research are trademarks of BenchFly, Inc. Sigma-Aldrich is a registered trademark of Sigma-Aldrich Biotechnology LP and Sigma-Aldrich Co.
###