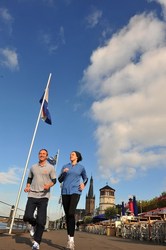 In the footsteps of Clara and Robert Schumann
Düsseldorf, Germany (Vocus) March 1, 2010
Visitors taking guided tours organized by the city's tourism office are up 16% in 2009 for walking tours in the city's center, and up 8% for guided city tours. The city has been investing more in tour infrastructure, and will begin operating a new double-decker bus for hop-on-and-off tours in March.
New approaches and themes have contributed to the increases, as tourists and locals embrace them as new ways to experience the city, often against the backdrop of current events and festivals. Examples include the tour "In the footsteps of Clara and Robert Schumann," as Düsseldorf celebrates Schumannfest during 2010. A total of 30 different tours are now offered, 25 of which offer experiences such as night tours guided by a real-life watchman, sight-seeing while jogging, and a tour of the city's current construction sites. Another popular concept is "travel without barriers," special needs travel for physically and mentally challenged visitors, and tours of Düsseldorf's sights and attractions.
An important factor in tour sales success has been flexibility, as more visitors take advantage of customized tours by bus, boat, bicycle or on foot. In addition, modules are offered that can be added to any tour for greater customization such as personal shopping and professional photo shoots.
Nevertheless, the biggest growth was in established classics, like the historic Old Town walking tour – a sign that interest in Düsseldorf as a tourist destination is growing ever higher.
Düsseldorf, only a short distance from many major destinations, makes possible easy travel to the Rhine-Ruhr area, Cologne, Belgium, and the Netherlands, as well as many opportunities for short and long-term stays. For more information on Düsseldorf, visit http://www.visitduesseldorf.de.
Düsseldorf International Airport, Germany's third largest, offers several non-stop flights from US & Canadian cities (Atlanta, Chicago, Ft. Myers, Los Angeles, Miami, New York, Newark, Toronto, San Francisco, Vancouver), as well as convenient connections to many European cities. For more information about the airport, visit http://www.fly2dus.com.
Düsseldorf Tourism & Marketing GmbH is the visitors and convention bureau of the city of Düsseldorf. Its responsibilities include tourism and city marketing, as well as conference and meeting marketing, hotel reservation services, fairs and convention services, city event ticket sales and advance ticket reservations. For more information, visit http://www.visitduesseldorf.de. E-mail:perry.r(at)duesseldorf-tourismus(dot)de
###