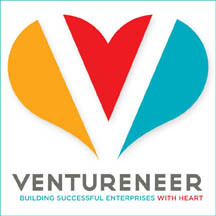 "Cause marketing is about forming a practical partnership between the for-profit and nonprofit sectors," says Geri Stengel. It isn't about begging for donations or giving without getting. It's about mutual gain." Geri Stengel, President, Ventureneer
New York, NY (Vocus) March 1, 2010
Nonprofit leaders are searching for new funding sources while business leaders are trying to attract new customers.
Cause Marketing is the tool that can help them both, whether large or small. The nonprofit gains access to the larger PR resources and the customer base of the for-profit while the for-profit gets access to consumers who like to do business with socially responsible corporations.
"Cause marketing is about forming a practical partnership between the for-profit and nonprofit sectors," says Geri Stengel, founder of Ventureneer.com. "It isn't about begging for donations or giving without getting. It's about mutual gain."
Stengel will be teaching the free Ventureneer webinar Cause Marketing Basics from 2 to 3 p.m. EST on Wednesday, March 17.
Cause Marketing is not confined to big corporations with large marketing budgets. Small business owners can get and give value as well. More and more customers want to buy from businesses that care about their communities; that's the "get." Small business can provide in-kind services, volunteers, and access to donors; that's the "give."
This webinar will help nonprofit leaders decide if Cause Marketing is right for their organizations.
"Cause Marketing can be very successful," Stengel says, "but finding the right partner and putting together the right package is critical to that success."
The webinar will help nonprofit executives understand:

The buy-in needed within an organization before undertaking a Cause Marketing partnership;
How to get that buy-in;
What motivates businesses to partner with a nonprofit;
How to determine the value of a nonprofit to a for-profit business;

The benefits of partnerships with small businesses;
Pricing the partnership;

How to insure that both the nonprofit and the small business owner are satisfied at the end of the program.
Nonprofit leaders, board members, nonprofit executive directors, chief financial officers, fundraisers as well as small business owners who want to put together a socially responsible marketing program will benefit from this webinar.
For more information or to register for either webinar, go to http://ventureneer.com/webclass/cause-marketing-basics-0
About Geri Stengel
Geri is founder of Ventureneer, an online education and peer support service. An adjunct professor at The New School, she honed her online experience at companies like Dow Jones and Physicians' Online. Geri co-founded the Women's Leadership Exchange and is president of Stengel Solutions, a consulting service for social-impact organizations.
About Ventureneer
Ventureneer.com provides nonprofit and small business advice as well as entrepreneurial and nonprofit training through a new approach to learning: a blend of traditional, formal instruction with informal, peer learning that takes advantage of Web 2.0 technology to capture and share knowledge. Ventureneer's customized blogs, virtual classes, peer-to-peer learning, coaching, web events and articles help entrepreneurs make faster, better decisions for their enterprises.
Geri Stengel
212-362-3088
geri(at)ventureneer(dot)com
###