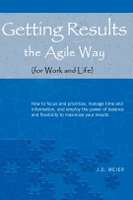 Getting Results the Agile Way
(PRWEB) March 10, 2010
Author JD Meier's new book on personal and professional achievement "Getting Results the Agile Way - The Book on Getting Results in Work and Life" is now available for free in HTML at http://GettingResults.com . The book is an introduction to Meier's Agile Results™ system, providing readers a simple way to drive results in both work and day to day life.
"'Getting Results the Agile Way' and the Agile Results system are my way to offer everyone the insight and information needed to develop the skills vital for personal and business success and for getting results," Meier says. "Everyone can benefit from the skills of balance, flexibility, time management and technique, yet these are often difficult to develop. I've designed both the book and the system to provide readers a quick and easy way to understand the key hotspots, principles and strategies for achieving Agile Results."
Agile Results details a principles-based approach to making the most out of work and life. Among other benefits, readers will learn how to find a work/life balance, how to find a flow state for more engaging work, how to focus on what really counts, how to create more value for yourself and others, and how to find your passion and purpose.
In Agile Results, Meier not only draws from his own experiences, but incorporates the best principles, patterns and practices from a variety of disciplines, as well, including sports, positive psychology, personal productivity, agile development, Scrum, project management, time management, leadership skills and strengths-based development. Meier has tested and honed the system to work for individuals and teams and has refined it over years of deliberate practice. The result is a well-rounded, proven system that helps people bring positive, effective and lasting change and benefit to their lives.
The Agile Results system is based on three keys -- The Rule of 3; a Monday Vision, Daily Outcomes and Friday Reflection pattern and Hot Spots for Life. As detailed in "Getting Results the Agile Way," adoption of these keys provides an incremental approach to and solid foundation for results.
Meier's revolutionary system and the insightful information he provides in "Getting Results the Agile Way" is already drawing great praise.
"Agile Results delivers know-what, know-why and know-how for anyone who understands the value of momentum in making your moments count. In our rapidly changing world, JD Meier offers a comprehensive clarity to sort through the often confusing cloud of complexity and find the real opportunity in our lives. I'm actually amazed at how much I learned from the first read through. Can't wait to go deeper with it, and there's plenty of depth. He packs powerful ideas that can turn your ideas into action onto every page, and the way he brings them to life makes it a real pleasure to read. More to the point, JD gets it (and you will too!) Time flies and agility is key. If you care about results, if you care about making your life count, Agile Results can take you further, faster and with more fun towards the results you desire." -- Dr. Rick Kirschner, bestselling author, speaker, trainer, coach, The Art of Change LLC
For more information about the Agile Results system or to read "Getting Results the Agile Way," visit http://gettingresults.com. Readers can also visit Meier's personal blog at http://SourcesOfInsight.com.
# # #