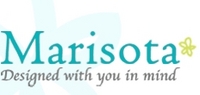 Marisota also believe that women should have the opportunity to see fashionable clothing that is made to suit them on real women and not just models
(PRWEB) March 3, 2010
Marisota.co.uk is devoted to solving the problems women have when shopping on the high street. They discovered what issues women face, and now their collection of plus size clothing, footwear and lingerie seeks to meet these issues head on.
Marisota's fantastic range includes fashionable clothes in sizes 14 – 32, in styles that are made for curves. They also offer a great choice of leg lengths, stylish shoes in widths up to EEE and sizes 4 – 9, a choice of stunning wide calf boots and attractive lingerie in back sizes 34 – 56 and cups A – JJ.
Marisota has a brand new collection for Spring/ Summer 2010. It features all the latest styles as well as classic fashion in Marisota's great range of sizes, plus they have an amazing array of designer clothing to choose from, such as Joe Browns, Jeffrey & Paula, Changes By Together, Caryn Franklin, Anna Scholz and Changes Boutique.
Marisota also believe that women should have the opportunity to see fashionable clothing that is made to suit them on real women and not just models. That's why they've introduced three new Marisota girls:
Jenny –
Jenny, like over half of women, used to struggle to find fashionable shoes that fitted properly. Like almost half of women, finding boots to fit her calves used to drive her round the bend; the high street just doesn't offer the styles she loves in wider fittings. Now that she shops at Marisota, finding fashionable footwear that fits has never been so easy! She can get shoes in widths up to EEE and extra wide calf boots in her size without having to compromise on style.
Debbie –
Debbie had the same issue as half of women, she found it hard to find trousers in her leg length shops on the high street just don't offer enough choice when it comes to lengths. Now she shops at Marisota she's found there's plenty of choice available. So she finds her perfect fit and length every time from extra short lengths to regular in sizes 14 – 32.
Lisa –
Like over a third of women Lisa used to find shopping for bras in her size difficult. When shopping for lingerie on the high street she'd always find the bras she liked didn't come in her size, and the ones that did looked frumpy, uncomfortable or boring. Now, with Marisota's fantastic size range, her only problem is choosing which ones to buy! With Marisota's great selection of lingerie in back sizes 34 – 56 and cups A – JJ she is completely spoilt for choice!
You can find out more about the new Marisota women and Marisota on the Marisota World page of their website or on the Marisota blog.
###