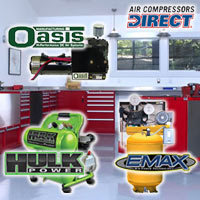 These Oasis DC compressors are perfect for service trucks and contractors who need a rugged compressor out in the field at all times
Bolingbrook, IL (PRWEB) March 2, 2010
AirCompressorsDirect.com - is expanding its online product offering with the inclusion of EMAX, Hulk and Oasis air compressors.
With the addition of these three new product lines, the
rotary screw and hand carry air compressor categories now have wider offerings. Plus, Air Compressors Direct now offers Oasis on-board DC compressors.
"These Oasis DC compressors are perfect for service trucks and contractors who need a rugged compressor out in the field at all times," said Jon Hoch, founder and CEO of Power Equipment Direct, the parent company of AirCompressorsDirect.com.
In addition to carrying EMAX, Hulk and Oasis compressors, AirCompressorsDirect.com also carries a complete line of Briggs & Stratton, Campbell Hausfeld, Chicago Pneumatic, Ingersoll Rand air compressors, plus a wide selection of air tools and compressor accessories.
Power Equipment Direct operates nine niche online superstores. In addition to AirCompressorsDirect.com, the Bolingbrook, IL-based company operates ElectricGeneratorsDirect.com, PressureWashersDirect.com, SnowBlowersDirect.com, MowersDirect.com, WaterPumpsDirect.com, SumpPumpsDirect.com, ChainSawsDirect.com and LogSplittersDirect.com
###