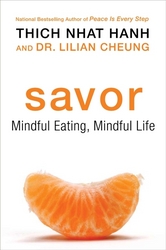 Among Buddhist leaders influential in the West, Thich Nhat Hanh ranks second only to the Dalai Lama. - New York Times
San Francisco, CA (PRWEB) March 2, 2010
Renowned Buddhist master Thich Nhat Hanh has helped thousands of people on the path to mindfulness. He is beloved by students around the world, and The New York Times writes that "among Buddhist leaders influential in the West, Thich Nhat Hanh ranks second only to the Dalai Lama." Now, together with Dr. Lilian Cheung, a nutritionist with the Harvard School of Public Health, Hanh applies his mindfulness teachings to our everyday life in the most fundamental way possible: focusing on the way that people eat. By weaving together Buddhist teachings with nutrition science, Hanh and Cheung offer a new and penetrating perspective on how the current obesity epidemic developed, and on what can be done, both individually and collectively, to reverse it. In their new book SAVOR: Mindful Eating, Mindful Life(HarperOne, Hardcover, $25.99, On-Sale March 2010), Hanh and Cheung explore not only what one should consume, but also how to consume for individual well-being and the well-being of the world.
Recent scientific studies reveal that social and environmental factors have a significant impact on weight gain. "It is not just what we eat that matters: where we eat, when we eat, who we eat with, and how we eat all play a role in whether our relationship to food is healthy or unhealthy."
In other words, the latest scientific research fully endorses a mindful approach to eating. Mindfulness, simply stated, is a way of paying attention, and in SAVOR, Cheung and Hanh apply mindfulness practice to help readers better understand the motivations for and obstacles to healthy living.
Understanding the perceptions, feelings, incentives, and obstacles that prevent a balanced approach to food and diet is the key to changing behavior. With this in mind, SAVOR presents a whole-life plan for ending the weight-loss struggle. Offering practical tools, including personalized goal setting, a detailed nutrition guide, and a mindful living plan, the authors help readers uncover the root of their habits and begin to transform their behavior.
Hanh and Cheung point out that many people are caught in a cycle of shame and guilt: they spend countless hours worrying about what they ate and if they exercised enough, blaming themselves for actions they can't undo. They are stuck in the past and unable to live in the present—that moment in which they do have the power to make changes in their lives. SAVOR teaches readers how to easily adopt the practice of mindfulness, and integrate it into eating, exercise, and all facets of daily life, so that being conscious and present becomes a core part of one's being. Readers will become more conscious of the barriers and challenges to controlling their weight, and will learn how to change their bad habits and find solutions that fit their personal lives.
As the authors explain, "It is the awareness of the present moment, the realization of why we do what we do, that enables us to stop feeling bad and start changing our behavior." SAVOR not only shows how to achieve a healthy weight—it fundamentally redesigns our relationship with food, and brings to the surface the rich abundance of life available in every moment.
SAVOR
Mindful Eating, Mindful Life
By Thich Nhat Hanh and Lilian Cheung
HarperOne, an Imprint of HarperCollins Publishers
Hardcover, $25.99, ISBN: 9780061697692
ABOUT THE AUTHORS:
Thich Nhat Hanh is a Vietnamese Buddhist Zen Master, poet, scholar and peace activist. During the war in Vietnam, he worked tirelessly for reconciliation between North and South Vietnam. His courageous efforts to generate peace moved Dr. Martin Luther King Jr. to nominate him for the Nobel Peace Prize in 1967. During the war, he founded the Van Hanh Buddhist University in Saigon and the School of Youth for Social Service. Forced into exile because of his efforts to negotiate peace in Vietnam, he continued his activism, rescuing boat people and helping to resettle Vietnamese refugees abroad. Thich Nhat Hanh is the author of many books including such important classics as Peace is Every Step and The Art of Power. He lives Plum Village, his meditation center in France, and travels worldwide, leading retreats on the art of mindful living. Visit the author at http://www.plumvillage.org.
Dr. Lilian Cheung, D.Sc., R.D., is a lecturer and Director of Health Promotion and Communication at the Harvard School of Public Health's Department of Nutrition. She has been a co-investigator at Harvard Prevention Research Center on Nutrition and Physical Activity, which collaborates with community partners to design, implement and evaluate programs that improve nutrition and physical activity among children and youth. She is also the creator and editorial director of The Nutrition Source, the Harvard School of Public Health's nutrition website for journalists, health professionals and consumers. Cheung has been a student of Thich Nhat Hanh since 1997.
###