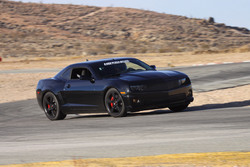 Camaros are a big part of our customer base, and as we increasingly produce more videos and online articles, we decided to create an entertaining online outlet just for Camaro fans
Sante Fe Springs, CA (Vocus) March 2, 2010
Suspension manufacturer Hotchkis Performance has launched an all-new blog that provides action-packed videos, news, tech stories, feature articles and event coverage focused on the Chevrolet Camaro. The new blog, Hotchkis Camaro HQ, is dedicated to providing casual Camaro fans and serious performance enthusiasts a mix of entertainment, information and exciting content - covering everything from 1967 SS cruisers and race-prepped 2nd Generation Camaro track cars to the latest 2010 model.
"Camaros are a big part of our customer base, and as we increasingly produce more videos and online articles, we decided to create an entertaining online outlet just for Camaro fans," explains company owner John Hotchkis. "More than just a standard website, the new Hotchkis Camaro HQ blog has an archive of technical articles, test results, racing videos and vehicle features. The important thing here is that we want our Camaro fans to contribute to the blog - add comments about articles, submit videos and more. If you have a cool 1967-2010 Camaro, send us a link, video or a few cool photos and we'll do our best to post it."
The new Hotchkis Camaro HQ blog is designed to provide entertainment and information as well as a platform for us to communicate directly with enthusiasts. Additional content will be added in the coming weeks, including several new track test videos, photo galleries, and a 1967-2010 Camaro retrospective. Finally, the blog features an online vehicle gallery divided by Camaro generation. Customers are encouraged to share photos and videos of their favorite cars in action. To explore the all-new Hotchkis Sport Suspension Camaro blog, go to http://www.hotchkis.net/blog. For full-line Hotchkis information please visit http://www.hotchkis.net.
About Hotchkis Performance
Founded by former professional racecar driver, John Hotchkis, Hotchkis Performance was one of the first to design and track test performance suspension for muscle cars. Nearly two decades later, John and the Hotchkis team remains dedicated to high-quality, track-tested, suspension that is Made in the USA with domestic materials. The Hotchkis Philosophy is simple: Buy it once, bolt it on, and have fun! To preview the entire line of Hotchkis Sport Suspension components, please visit http://www.Hotchkis.net, email sales@hotchkis.net, or contact Hotchkis Performance, 12035 Burke Street Suite 13, Santa Fe Springs, CA 90670, 877-4-NOROLL.
###