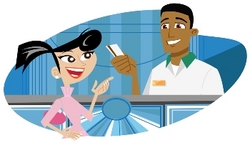 The real advantage of the Virtual Customer is the experience
Winter Park, Florida (PRWEB) March 2, 2010
In today's highly competitive environment, providing good customer service is no longer enough. To stand out, businesses need to provide the kind of service that engages customers and keeps them coming back again and again. Employment Technologies' newly released EASy Simulation® Virtual Customer - Service gives businesses that edge in attracting and hiring top associates who deliver superior service and build customer loyalty from day one.
Designed specifically for the customer service industry, the Virtual Customer - Service simulation quickly and accurately assesses applicants' customer service skills. This highly interactive simulation blends advanced simulation technology with proven assessment methods, resulting in a selection tool that is both engaging for applicants and highly effective in predicting job success.
While simulation has been the standard in high-risk industries like aerospace, aviation and medicine, savvy retailers and service organizations are now recognizing the benefits of simulation for their businesses too. "Using simulation for front-line hiring is another step forward for simulation," explains Employment Technologies president and CEO Joseph Sefcik. "Unlike traditional employment tests, only the Virtual Customer - Service simulation immerses applicants in the customer service role. As applicants interact with our virtual customers, employers pre-experience how the applicant will treat real customers once they're on the job. The simulation experience gives businesses greater confidence in who they hire."
The Virtual Customer - Service simulation offers key advantages over other screening tools:

Experience. "The real advantage of the Virtual Customer is the experience," explains product developer Joe LaTorre. "Applicants experience what it's like to be a customer service provider, interacting with a variety of customers and solving real-world customer issues. Employers experience a risk-free way to preview applicants' skills and identify those with the greatest potential for success.
Engaging. This highly visual and engaging simulation is the first assessment to consider the applicant experience as a vital component to the overall success of the hiring process. Job applicants are also customers. There is no better way to begin building the ultimate customer experience than to convey a positive, progressive corporate image during the hiring process.
Results. Simulations result in higher accuracy, more favorable applicant acceptance, and less adverse impact than traditional pre-employment tests. The Virtual Customer gives employers a valid, fair, and affordable tool in selecting top associates who perform better, stay on the job longer, and keep customers coming back.
Based on more than 20 years of experience within the customer service industry, Employment Technologies developed the Virtual Customer according to the highest professional and legal standards. The online simulation simplifies the hiring process and gives employers the flexibility of remote or on-site testing. The Virtual Customer offers pricing models to fit every budget, ranging from simple per-simulation pricing to annual licenses with volume discounts.
For a free preview of the Virtual Customer - Service simulation, contact an EASy Simulation representative at 866-919-0095 or visit http://www.etc-easy.com/_products/virtualcustomer/main.htm for additional information.
About Employment Technologies
Employment Technologies is the world's #1 provider of pre-employment simulations. Nationally recognized for its brand products, EASy Simulations, Employment Technologies continues to lead the industry in innovation, quality, and value. EASy Simulations are consistently rated Best in Class in independent reviews and are proven to increase hiring accuracy, reduce hiring time and costs, decrease employee turnover, and improve business results. For more information, visit http://www.etc-easy.com or call 866-919-0095.
###