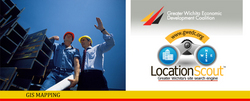 We expect to leverage this GIS capability to attract companies interested in bringing jobs and investment to Greater Wichita.
Westbury, NY (PRWEB) March 15, 2010
According to Vicki Gerbino-Pratt, President of GWEDC, "Our LocationScout- built by FastGIS is an important advancement for our 10 county economic development coalition. Location Scout lets us quickly respond to prospect inquiries utilizing powerful GIS functionality including on the fly demographic reports and provide the most current information concerning site selection and business investment in our local counties. We expect to leverage this GIS capability to attract companies interested in bringing jobs and investment to Greater Wichita."
Fully integrated within the GWEDC website, LocationScout combines a highly organized searchable buildings and sites database with sophisticated Google mapping, robust GIS functionality and full county and business demographics to provide site selection consultants and end users with an efficient information tool.
According to Dennis Shea, Managing Director/ Business Development and co-founder of FastFacility LLC, "After a thorough review by GWEDC's search committee, multiple vendor proposals from firms across the country were considered. FastGIS was chosen for providing a custom design and build GIS application with a high level of functionality and capability that GWEDC required, real time distance and drive time radius demographics and strong customer service, all at a competitive price".
"GWEDC now has one of the most sophisticated buildings and sites databases in the Midwest region. We are pleased to have partnered with the coalition to help assist them in their efforts to create local job growth by providing site selectors with the necessary data and tools they need to bring investment to South Central Kansas."
GWEDC also wanted to establish a buildings and sites database that local industrial/commercial real estate firms would embrace and support. Now realtors and property owners can easily upload individual property reports featuring detailed site data, GIS mapping, direct contact links and multi enlargeable photos through a simple single entry management system.
This full GIS (geographic information system) powered database is centered around advanced Google maps available on every property listing and linked to 12 distinct demographic reports. The application allows the user to run these reports from any property or point on the map – a valuable feature competing applications do not provide. Functionality includes Google Street View, Google Earth, Microsoft Birds Eye, exclusive buffering and measuring tools, GIS mapping layers that identify key data concentrations and the ability to create "on the fly" drive time and radius demographic reports. LocationScout is also accessible via smart phones and PDAs.
All GWEDC property listings are also uploaded in real time to FastFacility's national site selection search engine called FastFacility.com, which allows end users and site consultants to perform free access site searches for buildings and sites that will match their project criteria. When a match is found in the Wichita area on FastFacility.com, the user will then be able to click through to the GWEDC listing to analyze the unique business advantages of that property and also access the GWEDC website.
GWEDC entered into a three year agreement with FastFacility LLC to utilize FastGIS technology. The site can be found at http://www.gwedc.org/locationscout .
About FastFacility LLC
As a leader in online GIS applications FastFacility LLC --through its FastGIS and FastMap solutions -- is today's fastest growing provider of web based GIS solutions to economic developers and other users.
FastFacility LLC is also the parent company of FastFacility.com the free access buildings and sites database featuring available corporate real estate that attracts more unique visitors than any other comparable website. FastFacility.com has been widely marketed through a mixed media campaign of online through Google Adwords, Microsoft Bing and Area Development.com, on television with CNN, CNN International and Bloomberg, and in many leading global news publications including The Financial Times, BusinessWeek and Area Development magazine and across social media.
###