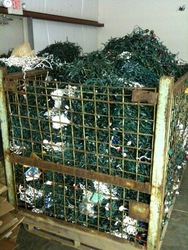 Jackson, MI (Vocus) March 2, 2010
HolidayLEDs.com, an e-commerce company specializing in LED Christmas lights and decorative lighting today announced the results of its 3rd annual Christmas light recycling program. This year's program resulted in the recycling of over 10,000 pounds of Christmas lights. Participants in the program will receive a coupon good for 15% off any purchase of LED Christmas lights from HolidayLEDs.com.
The Christmas light recycling program which began in 2007 has been an overwhelming success with participation increasing dramatically each year. "Each year we have received double or more the number of lights from the previous year," said Philip C. Curtis of HolidayLEDs.com. Curtis, who says he never expected the program to involve recycling 10,000 pounds of lights, said his company recently decided to continue to accept recycling submissions indefinitely. The program was originally scheduled to conclude on February 28, 2010. "We receive several emails each day from people interested in the program and inquiring whether it is too late to send us their lights," Curtis explained. "As long as there is sufficient interest and demand for the program we will continue the operation," said Curtis.
When the program launched for its third year this October, HolidayLEDs.com asked participants to work together and try to consolidate shipments with neighbors, friends, family, and co-workers. Curtis said that the size of the packages his company received this year increased quite a bit and the company is please that participants took notice of the request and worked to help make the program as environmentally friendly as possible.
Participants who sent their lights in for recycling can expect to receive their coupon via email within 30-60 days. HolidayLEDs.com encourages participants who have not received an email coupon within this time frame to contact the company.
For more information about HolidayLEDs.com recycling program please visit: http://www.holidayleds.com/holidayledscom_christmas_light_recycling_program
Contact:
Philip C. Curtis
Phone: 1.866-492-4330
Email: phil(at)holidayleds(dot)com
###