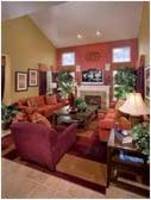 Schaumburg, IL (PRWEB) March 2, 2010
Ryland Homes, one of the largest Chicago homebuilders, combines beauty, functionality, and convenience at Beacon Pointe in Hoffman Estates.
Only six sites remain in Beacon Pointe, the only new construction currently available in Hoffman Estates. Ryland offers five executive style floor plans to build. One professionally decorated model home, the South Hill, including many custom features and decorator built-ins is also available for sale.
The Bridgeport, an inventory home, is available for immediate occupancy for those wanting to take advantage of the tax credit deadline for only $379,678.
Priced from $359,990, these homes have four bedrooms, 2.5 baths, and a two- or three-car garage. Nine-foot first floor ceilings and two-story foyers add to the elegance. Each design features an island kitchen with a breakfast area and a first-floor study. Floor plans may also include, or may be modified to include, a second-floor loft. Size of the homes varies from 2,250 to 3,122 square feet.
Located in the heart of Hoffman Estates, Beacon Pointe is minutes from I-90 and the Metra, making it convenient to the city of Chicago and O'Hare Airport. Shopping is close at Poplar Creek Crossing and the South Barrington Arboretum, and concerts, sporting events and family entertainment are just a few minutes away at the Sears Center Arena.
To learn more about these Beacon Pointe homes, contact Sales Counselor Cyndi Cahill at (847) 214-8493 or visit http://www.ryland.com to view floor plans and photos.
Headquartered in Southern California, Ryland is one of the nation's largest home builders and a leading mortgage-finance company. Since its founding in 1967, Ryland has built more than 285,000 homes and financed more than 240,000 mortgages. The Company currently operates in 15 states and 19 homebuilding divisions across the country and is listed on the New York Stock Exchange under the symbol "RYL." For more information, please visit http://www.ryland.com.
###