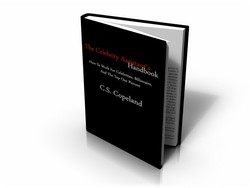 After fifteen years working as a top Personal Assistant to A-list actors, Grammy winning performers, heads of major corporations, top producers, directors, and entrepreneurs. I'm bringing my skills, knowledge, and experience right to you.
Santa Monica, CA (PRWEB) March 3, 2010
Author Craig Copeland has just released a new book revealing insights into the world of celebrity assistants. The Celebrity Assistant's Handbook: How To Successfully Work With Celebrities, Billionaires, and the Top One Percent gives detailed techniques of a successful celebrity assistant.
In his book, Copeland offers tips, techniques, advice, and a thorough step by step guide on how to handle every aspect of working as a Personal Assistant. This includes how and where to find the best assistant jobs and the secrets for getting the right skills for the job, getting hired, and then how to keep that job.
Copeland discloses techniques for networking and how to use volunteering as a method. He gives practical advice for what to do in the interview, how to dress, and how to stand out over the competition as well as valuable salary guidelines.
Whether working in a household, office, managing an estate, or running multiple homes, this book is a guide that covers all aspects of how to become a successful Personal Assistant.
"Through networking with other top assistants and getting their valuable insights, I've put together a guide that…will provide you with everything you need to hit the ground running," said Copeland.
Available as an eBook, The Celebrity Assistant's Handbook also includes templates to help assistant manage their work. Among others, the templates include a calendar, expense reports, and comprehensive checklists.
###