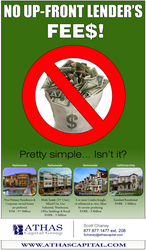 When we first opened our doors we wanted to be a different kind of lender. So we made the decision to take on deals without charging any fee upfront
Agoura Hills, CA (Vocus) March 2, 2010
Brian O'Shaughnessy, CEO of Athas Capital Group, knew that it was up to him to create a balance between the risk and reward associated with the world of http://www.athascapital.com (commercial) bridge lending when ACG began operations in 2008. One of the biggest challenges he faced was the question of whether or not to charge upfront fees. He knew most bridge lenders required a fee before underwriting a new deal. His inclination was to bypass this practice, so for the first six months ACG did not charge an upfront fee. The hope was ACG would see higher quality deals, the effect was exact the opposite. So Athas Capital Group began charging a nominal fee to discourage submission of loans that had no real hope of being funded.
"When we first opened our doors we wanted to be a different kind of lender. So we made the decision to take on deals without charging any fee upfront" said Brian O'Shaughnessy, CEO of Athas Capital Group. " It took about six months to realize that by not charging an upfront lender fee, we were being inundated with poor quality loans." he continued "It just became untenable to continue processing files only to find out that key components of the deals were not as represented". The switch to having an upfront fee was brought about to help ensure that, at the very least, the client believed in the deal being completed. Brian never gave up on the idea that one day http://www.athascapital.com (Athas Capital Group) would return to his original vision. That day has come.
Mr. O'Shaughnessy feels the time is right to try a no upfront lender fee policy again. "It has always been my goal to reinstitute this policy at some point. Some people had a problem sending Athas Capital Group money with no guarantee that the loan would fund and I'm sure we missed out on a few great deals, but we could not continue down the path we were going." O'Shaughnessy said. So what's changed over the past 18 months? Athas Capital Group's CEO explains "there is a real sense, in our market, that while it has been tough sledding for the past couple of years the brokers that are still in the business are the real professionals that clients can rely on for good advice." says O'Shaughnessy "This is a vital component in getting back to good lending practices." Will this be a permanent move on the part of ACG? Brian says "Well, of course, we all want this to be the policy going forward, but, in the end, it will come down to whether or not brokers can deliver good quality submissions free of hidden surprises." he continues, "We will also have to do our part upfront to address any potential challenges before we move too far along in the process. I firmly believe that a strong partnership of trust between the broker, borrower, and ACG is the only way we can ensure our mutual success."
Athas Capital Group, Inc. was founded on the basis of providing large scale product availability with a boutique style service platform to give our clients endless opportunity. The company was founded by Brian O'Shaughnessy who brings with him nearly 20 years of experience in all facets of real estate lending. With him, Brian brings Officers, key Management, Operational staff, and a Sales team that in most cases have served with him for 5 years or more and in specific cases nearly 15 years. Athas Capital's founder realizes, through over 15 years of operating as a Direct Lender, that relationships and service are the foundation of our continued success.
For more information or to schedule an interview with a company representative, please contact Scott Chaney at our office 877.877.1477 x208 or email at schaney(at)athascapital(dot)com.
###