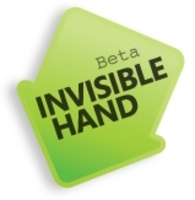 New Rules of Online Shopping
London, UK and Boston, Mass. (Vocus) March 3, 2010
InvisibleHand, the free service for Firefox and Google Chrome that helps find the best prices on popular items online, announced today the "New Rules of Online Shopping," a set of tips and tricks that savvy shoppers should never log on without.
Based on feedback from shoppers as well as analysis of its own data about what shoppers want online, InvisibleHand's list of top tips underscores the company's commitment to helping consumers get the very best information available about the items they want to purchase so that they can make smarter shopping decisions. The company's technology, available for download here, shows shoppers, in an unobtrusive way, where they can get a better deal on competing websites. To date, InvisibleHand has found $48 million in savings for American shoppers.
Below are InvisibleHand's "Don't Log on Without" shopping tips:

Download the right tools – A variety of services, from Azigo (which lets shoppers donate a portion of their purchase to causes important to them) to RetailMeNot (a source for coupon codes) to InvisibleHand, help you create the shopping experience you want at the prices you need
Use a reliable browser – Two of the most reliable, and increasingly popular, browsers are Mozilla's Firefox and Google Chrome — the add-ons and extensions available for these browsers, like iPhone Apps, make them that much more useful and customizable
Always make sure there's a secure checkout – Shoppers still should look for VeriSign, which ensures it's a secure transaction. Increasingly, you can store your credit card details with your online account with retailers such as Amazon.com, Nordstrom, Home Depot and others. Take advantage of these convenient features
Be flexible – Just as when you buy plane tickets, a little flexibility in when you want to buy can help you save money. InvisibleHand tracked prices on popular electronics and other items from November through January and found that those who could hold off on a big purchase for just a week or even a couple of days could save big
Cultivate patience – Usually grab your credit card during your lunch break at the office? You might need to wait for another time of day to get the best deal. Most consumers don't know that online prices can fluctuate significantly in just a few hours
"With tools like these in place, the online shopper is equipped to make the best possible purchase for their dollar," said InvisibleHand Founder, Robin Landy. "At InvisibleHand, we're arming the online shopping community with the not only the most functional add-on, but overall tools to create smarter, more confident buyers."
InvisibleHand's technology, named for Adam Smith's theory that people make rational economic decisions when they have perfect information, helps to level the playing field for online shoppers. The fact that InvisibleHand offers real-time pricing is critical: research has shown that traditional price-comparison websites offer prices that are outdated, which can cost consumers at the checkout. InvisibleHand also uncovers "hidden" prices that are not shown by some sites for certain items until consumers put the item in their shopping cart.
About InvisibleHand
InvisibleHand is a free money-saving plug-in for the Firefox web browser and Google Chrome extension. It shows a discreet notification when the product being browsed can be bought for a lower price elsewhere, and provides a link directly to the relevant product page at the competing retailer. InvisibleHand ensures that users no longer need to use price comparison websites by revealing the lowest price regardless of where users shop.
InvisibleHand has identified over $48 million in savings for its US users and over £6.5 million in savings for its UK users. It can be downloaded from http://www.GetInvisibleHand.com
Media Contact:
Meghan Gardner
Version 2.0 Communications
857-222-2864
mgardner(at)v2comms(dot)com
# # #