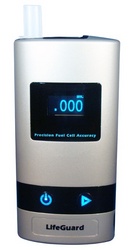 Each year more than 1 million people get arrested for DUI
Denver, CO (PRWEB) March 2, 2010
Now in 27 states throughout the United States, impaired drivers will be able to have a safe and sober ride home without worrying about electing a designated driver or leaving their car behind thanks to Lifeloc Technologies, Inc. and Safe Ride Solutions (SRS).
Lifeloc Technologies, Inc. and SRS announced a coordinated driving under the influence (DUI) prevention effort for professionals, corporations and private citizens concerned about the dangers of drinking and driving.
"We can't stop people from drinking," says Barry Knott, president and CEO of Lifeloc Technologies, Inc., a manufacturer of law enforcement and consumer breathalyzers. "However, we can offer practical and convenient alternatives to impaired driving and the consequences it poses to community safety, careers and family."
According to Gary Lawrence, CEO of SRS, a nationwide safe ride service, the new effort works on three levels: education, self-monitoring and transportation solutions. "We provide DUI prevention education to individuals, organizations and corporations. Part of that education is to understand and manage one's breath alcohol content (BAC) through self-monitoring using a breathalyzer," said Lawrence. "LifeGuard® is the only consumer breathalyzer to use proven law enforcement technology making it the only one we trust. Finally, when someone discovers they are unsafe to drive we arrange for a trained, professional driver to pick them up and take them home in the comfort of their own vehicle."
National Highway Traffic Safety Administration (NHTSA) reports show that 13,846 people died in 2008 due to an alcohol-related incident. The costs associated with driving under the influence (DUI) are staggering – the emotional cost of injuring someone, the potential loss of job or income, the reality of jail time and an average cost of $10,000 per offense. It's not worth the risk; Safe Ride Solutions and Lifeloc are offering a proactive alternative.
"Each year, more than 1 million people get arrested for DUI," said Lorenzo Neal, CIO of SRS and former NFL player. "I want to see companies step up and do something to not only educate, but provide real world DUI prevention resources for their staff. DUI is a dangerous thing that effects people from all walks of life."
This partnership is powerful because it combines education with self–monitoring and the ultimate convenience of a safe and discreet ride home. "There is great synergy between our two companies," said Knott. "The LifeGuard® personal breathalyzer provides law enforcement grade BAC measurement accuracy. All SRS's drivers are active or honorably retired members of public safety. These drivers can be trusted to provide a secure, safe and confidential service to get you and your car home."
By the end of April, SRS plans to expand to 29 states in 45 metropolitan areas. Both companies share a mission of improving the safety and security of our communities. Interested organizations, corporations and individuals can learn more about the efforts by visiting lifeguardbreathtester.com or saferidesolutions.com.
About Lifeloc Technologies, Inc.:
Lifeloc Technologies, Inc., is a leading global designer and manufacturer of personal and professional portable breath alcohol testers commonly known as "breathalyzers." More than 35 countries currently utilize Lifeloc's breath alcohol testing equipment for workplace, law enforcement, education and corrections testing. Lifeloc products are recognized worldwide for their ease-of-use, accuracy and reliability. For more information on Lifeloc, please visit http://www.lifeloc.com, http://www.lifeguardbreathtester.com or call 1-800-722-4872.
About Safe Ride Solutions
Safe Ride Solutions (SRS) is the only nationwide safe ride service in the United States. SRS works with corporations and organizations to assist them in reaching a new level of corporate/social responsibility by providing them with a proactive measure to get their people home safe after drinking. Safe Ride Solutions provides clients with a highly effective, dependable and confidential safe ride service that works in the real world. SRS is a convenient and safe alternative to driving after drinking. SRS helps their clients avoid negative attention and keeps them out of harms way. For more information on Safe Ride Solutions, please visit http://www.saferidesolutions.com or call 208-938-4500.
###